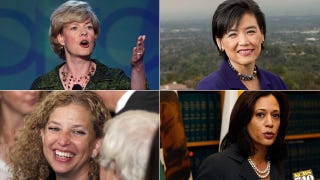 While Sarah Palin's out of the spotlight for now and Michele Bachmann's once bright political aspirations are fading fast, we may feel tempted rejoice. But for every Palin and Bachmann, there's a Noem and a Haley ready to take their place, and trying to argue with any of their ilk might feel like a neverending game of rhetorical whack a mole. Fortunately, the ideological opposite of these women exist, and we've compiled a collection of some kickass ladies to watch, to cleanse your political palate of all the nutty Mad Libs that have been clogging the airwaves this election cycle. Let's take a look, shall we?
---
Tammy Baldwin
Bio: Baldwin has represented Wisconsin's 2nd Congressional District since 1999. The 49-year-old grew up in Madison, Wisconsin. She's the first openly gay non-incumbent to be elected to the US House of Representatives.
Badass Credentials: In 2007, she co-sponsored a bill proposing to impeach then-Vice President Dick Cheney and then-Attorney General Alberto Gonzalez. She voted against the invasion of Iraq.
Badass Quote:
Yet, Republicans reject these commonsense solutions. They have no interest in shared responsibility and ask nothing, I repeat, nothing, of millionaires, billionaires, and corporations that use tax loopholes to ship jobs overseas. Instead, they expect middle-class Americans, struggling to pay their own bills, to pay all the country's bills, as well.
Aspirations: Last month, she announced that she'd run for retiring Senator Herb Kohl's seat in 2012. Considering the fact that the state of Wisconsin (shout out to my home state) ousted the amazing Russ Feingold and elected Scott Walker in recent years, they're due to make a non-stupid political move. By the way, Baldwin also aspires to recall Scott Walker, who some of you may remember as the chinless Republican union buster whose unpopular policies drew hundreds of thousands of protesters to the State Capitol in Madison earlier this year.
---
Diane Savino
Bio: Some of you may know her New York's district 23 state senator, but she's best known for a fucking amazing off the cuff speech in favor of allowing gay marriage in New York.
Badass Credentials: A self-admitted "neurotic cleaner," she began her career as a child welfare case worker. She's strongly pro-union. Her plea in support of gay marriage made her an internet sensation, much in the tradition of Keyboard cat. She's championed a measure that would allow New Yorkers 12 weeks of paid family leave in order to care for a new baby or sick family member.
Badass Quote: