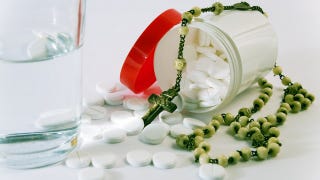 Catholic universities have got their rosaries in a bunch over a provision in the Affordable Care Act that would require them to do something that makes the baby Jesus cry- outfit their students and employees with insurance plans that would cover hormonal birth control.
The Affordable Care Act — or, if you're a Tea Party member, the Satan Socialism Death Panel Kenyan Nazi Worst Thing Ever Abomination — requires that insurance plans provide 100% coverage for procedures that qualify as preventative care. This means individuals paying anything out of pocket for colonoscopies, annual pap smears, and general physicals will soon be a thing of the past. According to guidelines approved by the US Department of Health and Human Services in August, hormonal birth control also qualifies as preventative care and thus, as of plan years that start after August of next year, insurance must cover the entire cost of your monthly Whore Pills.
Some religious organizations that provide insurance to their employees will be exempt from the requirement, but the religious exemption allowed by the provision doesn't extend to religious universities. This means that Catholic schools that until now did not distribute birth control from their health services center may soon be forced by the government to cease being hotbeds of secret off campus abortions and start paying for hormonal birth control. And this makes university officials' anger multiply like so many loaves and fishes of rage.