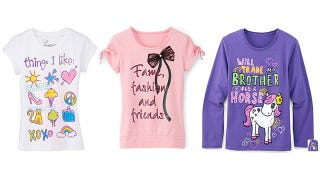 And the sexist T-shirt hits keep on coming — but in a way I never expected.
Sure, every once in awhile some stupid T-shirt comes out and people go bonkers for a spell, practically convulsing with outrage. Maybe the shirt says girls can't do home work or they suck at math, or that girlfriends can be identified by breed, like horses, or that guys can get a little rapeyish sometimes, but only because someone made them.
Bad ideas all. And the Internet quickly swings into action, sometimes forcing the retailer to pull the item, offer an apology and then ... go back to making really crappy T-shirts months later.
To be honest, I was excited about the recent outrages we've seen over T-shirts, starting with JCPenney's "I'm too pretty to do homework" debacle. As someone who has had incredible difficulty shopping for non-sexist shirts for my daughter, I thought we might have reached a watershed moment when it comes to equality in children's fashion.