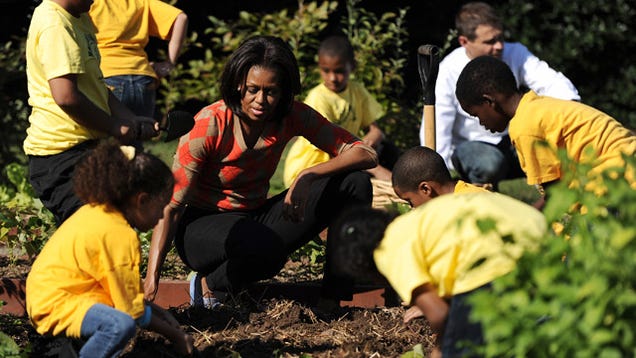 First Lady Michelle Obama has enough going on that she probably doesn't need to add "movie star" to her resume, but she might have to if Woody Allen has any say in the matter. Allen, who used France's first lady Carla Bruni in his latest movie Midnight in Paris, said recently, "If I was in a room with Michelle Obama, and I thought she was right for a part, I wouldn't hesitate to ask her." He's awfully casual about this, no?
We are talking about Michelle Obama here. Can't he be bothered to write a role specifically for her? Maybe she could play a magical fairy who visits a neurotic young boy and teaches him to love exercise. Or perhaps she could star as the matriarch of a large, complicated family that learns to grow their own vegetables in their backyard? [USA Today]
---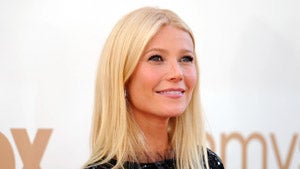 Gwyneth Paltrow
may look all innocent, but she's not afraid to get a little dirty. At a concert celebrating the 90th birthday of England's
Prince Philip
, the Goopster, who never misses a chance to sing, did her own rendition of
Cee-Lo's
"F—k You." Interesting song choice for a royal occasion, but it got extra interesting when the actress—who was clad in a very short dress—used the actual F-word. Oops! No, it's totally fine, because she said to the audience, "Don't tell the queen!" So, it's their little secret… Let's just hope
Queen Elizabeth
doesn't read the internet. [
E! Online
]
---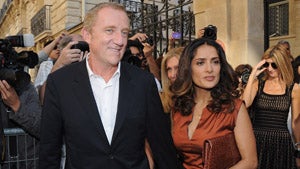 In the least shocking revelation of all time, actress
Salma Hayek
says she likes having a billionaire for a husband. The actress, who is married to French businessman Francois-Henri Pinault, says, "I work hard, I make my own living and I love it." But she also admits that being married to a wealthy man has its comforts: "When I have troubles sometimes, it's nice to have someone there to help." That does sound nice! [
Yahoo!
]
---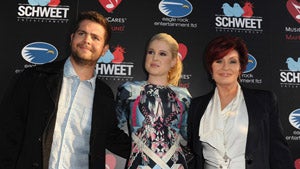 Sharon Osbourne
, wife of rocker
Ozzy
, told the ladies on
The Talk
that she recently had her breast implants removed. Here's why the 59-year-old opted to have them taken out: "One morning I woke up and one of my boobies was kind of much longer than the other." Sounds like a wise decision, and Osbourne reports she's relieved she no longer feels like she has "a water bed laying on [her] chest." [
People
]
---