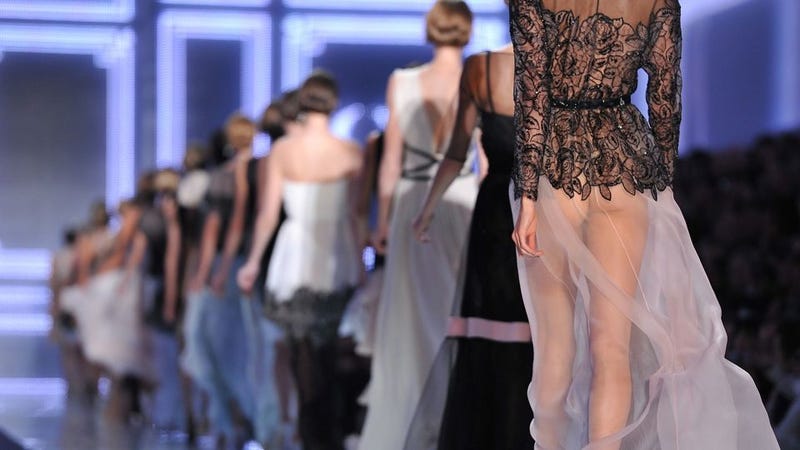 The spring Christian Dior collection walked in Paris earlier today. Dior still has not replaced fired creative director John Galliano, who lost his job after being arrested for hurling racial abuse at a couple in a Paris café six months ago, so studio head Bill Gaytten took the bow at the show's conclusion. Karolina Kurkova opened, wearing a houndstooth '50s-style blazer and a cream organza skirt. Karlie Kloss, wearing a black lace dress with a sheer pink skirt, closed — meaning the last thing the fashion press saw was her nearly-naked butt sashaying back down the runway. (And a million bad bloggers hit publish on totes original "cheeky" puns...) The collection was restrained (contrary to the insanely haphazard couture show Gaytten oversaw): neat, even prim, clothes that owe a big debt to vintage styles and the house's own archives. Kimono sleeves, full skirts, boat necks. A sort of Dior greatest-hits album — with all the nostalgia, familiarity, and the cashing-in that term implies. It was, dare we say it, a tad boring. Orlando Bloom and Leighton Meester are among the celebrities who showed. When asked about Galliano's replacement, C.E.O. Sidney Toledano reportedly told the press, "Show some patience!" [AP]
"Marc Jacobs is still seen as the frontrunner for the job, though talks have been tough and recently at a standstill, sources said." And the Galliano scandal does not appear to have tarnished the Dior brand: Toledano reports that the fall collection, which of course Galliano mostly designed, has been selling very well. [WWD]
---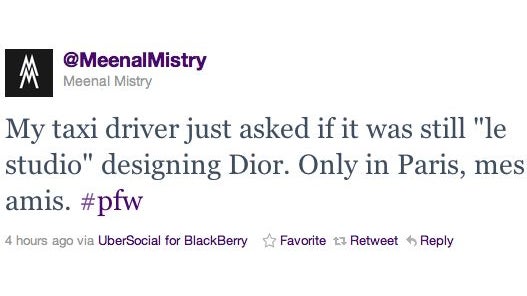 Style.com's
Meenal Mistry
reports that Paris cabbies maintain a passing familiarity with the goings-on at Dior. [@
MeenalMistry
]
---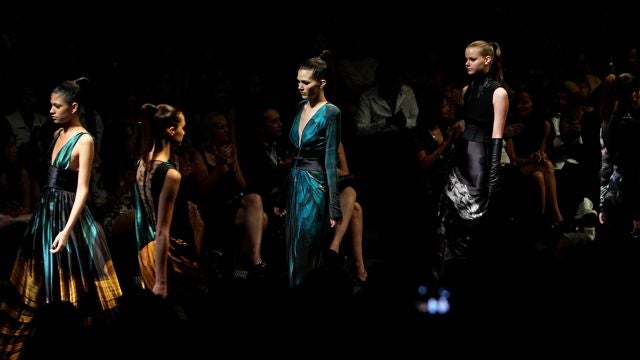 Also without a creative director this season is
Ungaro
, which cut ties with
Giles Deacon
just last month. (Deacon's fall collection is shown at right.) Ungaro has seen a revolving door of creative directors since Emanuel Ungaro retired in 2005. Literally everyone has had a try at designing Ungaro,
up to and including
Lindsay Lohan
. The house thinks it can get by on "heritage" styles for this season, and obviously there's a design team in place, but going leaderless is a risky move in fashion. The press hates it, for one thing, because the press is very invested in the notion of the designer-as-individual-genius: the Great Man theory of Fashion, if you will. And customers, too, are infected by this idea; part of what you're paying for when you buy a $3,000 dress is the knowledge that it was touched by a highly trained set of human hands working from a unique aesthetic vision. Right now, you can't buy Ungaro dresses (or Ungaro anything else) at any U.S. department store. They've all dropped the line. [
WSJ
]
---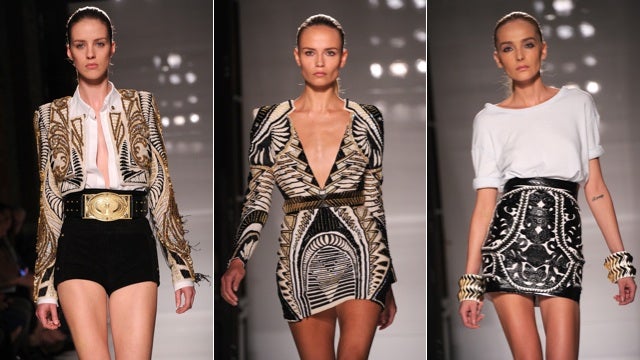 Olivier Rousteing
's first collection for
Balmain
has been warmly greeted by critics. Suzy Menkes calls it "a hit." Christina Binkley says, "Toreador jackets, tight leather pants and beaded tunics were pure 'Balmain,' which is to say, sexy, wildly embellished with metallic details, and impossibly expensive." Which is to say Rousteing finally made Balmain look as expensive as it is overpriced, we suppose. [
IHT
, WSJ]
---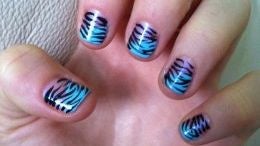 A Fashionista writer went to the Bronx for a
$10 manicure
with nail art: "Surprisingly, the tiger stripes take the least amount of time. I blink and the tech's pulling out what I hope is topcoat from
a bottle labeled 'chicken essence.'
Whatever — I got exactly what I was envisioning.
Lisa Frank
's tiger would be so jealous." Chicken essence! [
Fashionista
]
---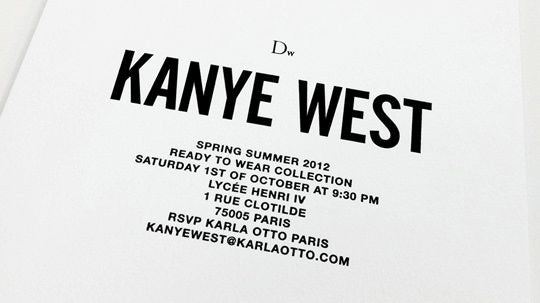 This is what
Kanye West's show invitation
looks like. [
High Snobiety
]
---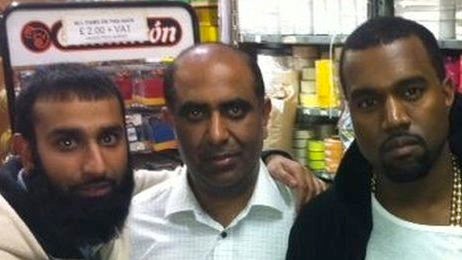 And this is what
Kanye West
looks like posing for a photo with a London fabric wholesaler and his son. The rapper stopped in to buy some zippers and fabric, and stayed for a cup of tea. [
BBC
]
---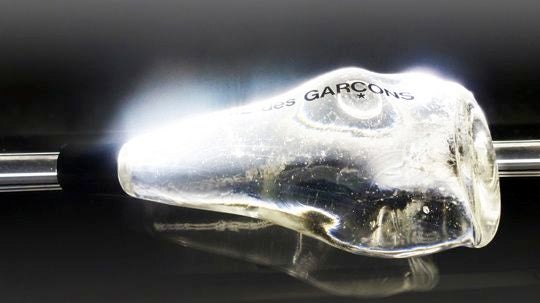 Comme des Garçons
' new perfume bottle is made from recycled glass, made to appear as though it were melting. [
High Snobiety
]
---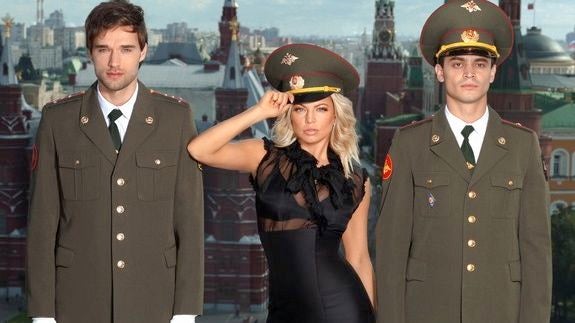 We do not know what this hilarious picture of
Fergie
posing with the two most bored-looking Russian male models in the world has to do with the launch of her new perfume, but we are glad that it exists. The photo, we mean. The perfume probably sucks. [
Make Her Up
]
---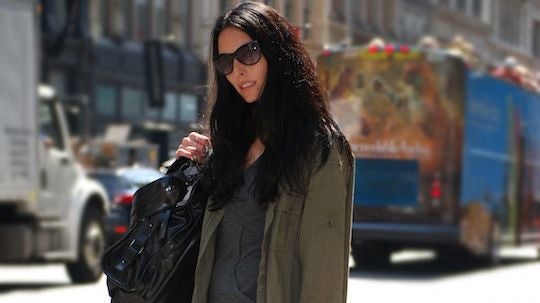 The model
Danielle Zinaich
— whom we did not realize was 36 — wears
Alexander Wang
and army surplus shirts. [
Fashionista
]
---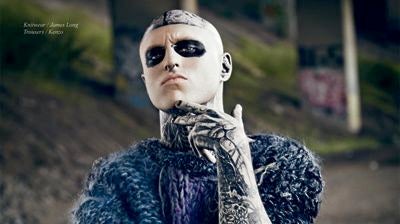 For an editorial in
Schön
magazine,
Rick "Zombie Boy" Genest
was Photoshopped and made up to appear as though he had not in fact tattooed a trompe l'oeil skull onto his face. (
Here
are some photos of Zombie Boy pre-tattoos.) [
DS
]
---