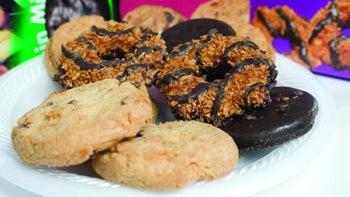 Five years ago, two Michigan girls started campaigning to remove palm oil from Girl Scout cookies because its production leads to the clearing of rainforests and endangers orangutans. Now the Girl Scouts organization has finally responded, saying it will try to stop using the ingredient that kills wildlife.
16-year-old Madison Vorva and 15-year-old Rhiannon Tomtishen formed Project ORANGS when they learned that palm oil production has left orangutans on the verge of extinction. In 1900 there were about 85,000 Sumatran orangutans in the wild, and today there are fewer than 6,6oo. The girls stopped selling the cookies and encouraged other Scouts to join their campaign (presumably convincing them not to eat the cookies themselves was the toughest hurdle). The girls also worked with Rainforest Action Network and the Union of Concerned Scientists to lobby the Girl Scouts.
Now the organization has finally responded. Starting with the 2012-2013 cookie season, Girl Scout cookies will feature a GreenPalm logo on the box as a "symbol of Girl Scouts' commitment to address concerns about palm oil production." According to MSNBC, it will also start buying GreenPalm certificates, which offer a premium price to producers that use sustainable practices. As for why palm oil can't just be cut from the cookes, the Girl Scouts' product manager has said it's the only "sturdy" alternative to transfats. The organization says bakers have been directed to use as little of the product as possible, and it's pushing to move to a certified sustainable palm oil source by 2015.