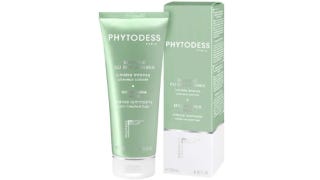 Much unlike many a magazine editor who recommends you buy all sorts of crap that they most likely got for free, your Jezebel staff doesn't get jack shit (other than books, unsolicited). And that's how it should be. But on our own time, in our personal lives, we still buy stuff. So this is Worth It, our daily recommendation of random things that we've actually spent our own money on. These are the things we buy regularly or really like, things we'd actually tell our friends about. And now we're telling you.
I have relatively few complaints about my hair, generally speaking. I like that it grows in thick, I don't mind that it tends towards wiry because it really holds a style, and it's got a nice wavy natural texture. (That is to say my hair is curly when freshly washed, fading to wavy the following day, and more or less straight the day after.) It is, however, oily at the roots almost no matter what and dry at the ends almost no matter what. There is only one product I've ever used that has remedied this condition, and unfortunately it is only available in France. Jacques Dessange Phytodess Masque à L'huile de Macadamia, you are magic. I miss you. I bought the biggest bottle of you that I could find last time I was in Paris, and that was four years ago, and you're long gone. I have an eBay alert and a Google alert set to your name. When traveling friends ask me what I want from overseas, I don't tell them duty free Lucky Strikes or Laphroaig, I tell them only: Jacques Dessange. I miss you. I need you in my life, and on my head.
I love this conditioner so freaking much. It's the only thing that's ever balanced out my oil situation and left my hair looking so great it's almost unreal. One morning I actually took a picture of myself in my pajamas, because I couldn't believe my hair right after I'd washed it with this conditioner. My hair never looks like this. Ever. (By the way, when I took that photo — in early 2008 — I had not yet discovered is Clinical Active Serum, hence the zits. But I digress.) And now my hair definitely never looks like this, because I have no way of getting Phytodess Masque à L'huile de Macadamia in the U.S. (that I know of).