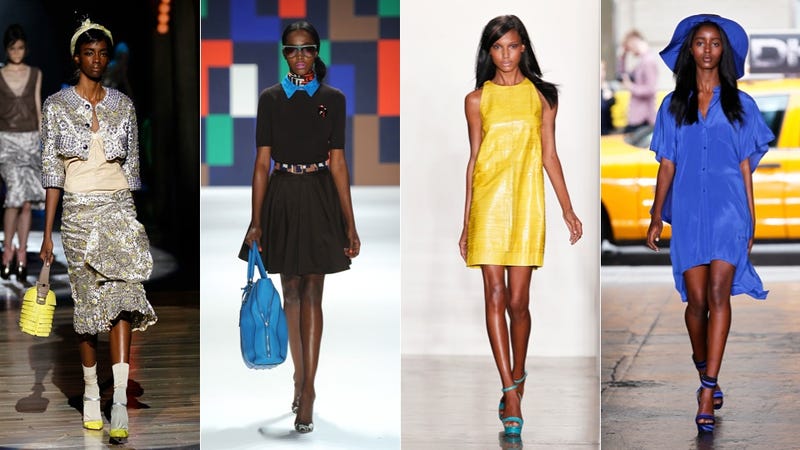 Every season, New York fashion week comes around, giving us all endless opportunities to gawk at front-row celebrities and trends in the making. And every season, this website tracks the racial diversity — or, more bluntly, the lack thereof — on display among the models who are cast for the top shows. This season's numbers are in, and fashion week was slightly more diverse than usual.
This is good news, obviously — but it's especially good news coming on the heels of last season, which was the whitest in years.
This month, for the spring-summer 2012 fashion season, brands mounted some 142 shows and presentations in New York City. Those shows presented some 4,657 different women's wear looks; of those 4,657 opportunities to use a model, 3,837, or 82.4%, went to white girls. Some 394, or 8.5%, were given to black models. Asian models were again the third most popular ethnic group, getting 316, or 6.8%, of the available runway spots. Non-white Latina models were once again trailing in fourth place; out of those 4,657 looks, just 93, or 2% were given to them. During all of New York fashion week, models of other races were used just 17 times.
Diversity in fashion isn't just a nice ideal. It's also of crucial importance to fashion, and its whole image-making machinery. The runway is the conduit through which the fashion industry picks its stars. Picture a giant hopper; that's fashion week. Pour a bunch of models in. The ones that work the most, and the ones that work the best shows, have already been noticed by the top casting directors. On the runway, they're seen by the editors of the world's most prestigious fashion publications. Backstage, they work with some of the industry's most talented and influential stylists. To the casual shopper, one runway model may look very much like another. But the runway is where models get noticed by the people who will have the most impact on their careers. The runway is where the path to much more visible work — like advertising campaigns for major designers, editorials in the biggest magazines, and, ultimately, if a model is very lucky, multi-year contracts with cosmetics companies — begins. If the girls who go into this hopper are mostly white, then the faces the rest of us will go on seeing in ads, magazines, and billboards will be white. And then the kind of beauty another generation of girls and boys will grow up being taught to value above all others will be white.
And as paltry as giving a mere 17.6% of runway spots to models of color might seem — hell, is — in a city where whites have been in the minority since the 1980s, and in an industry where sexual minorities and many men and women of color hold prominent positions, it's even worse in Europe. The Milan shows are ongoing; many of the non-white models who worked most successfully in New York (like Genesis Vallejo, a new face who booked five shows) didn't even work at all in Milan. As much as it feels like getting excited about a 40-degree day, for non-white models to get 820 out of 4,657 runway spots is, relatively speaking, good news. For comparison, you can see a graph with numbers for the diversity of New York fashion week since 2008 at left; click to enlarge.
If there was one area that showed particular improvement this season, it was in the number of shows that were all-white. Whereas in the fall of 2007, one third of New York shows had no women models of color at all, this season there was only one: the designer Billy Reid's show.