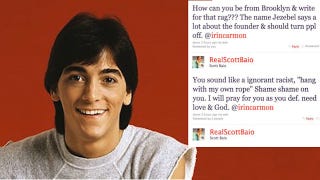 Recently, I learned that someone had given a paper at MIT on Scott Baio's Twitter beef with this very site.
It was meant to be presented orally — with an "epic" powerpoint — or so my sister, who discovered it, was told. The author, Amber Watts, declares in it that Twitter had breached a major boundary in the celebrity machine, where even tell-alls involve layers of filter and artifice. This mattered, she says, because
The desire for authenticity in celebrity personae is an essential one for fans: it represents a search for a larger truth, proof that the star texts the public reads and sees are not fictional. Often, all the proof necessary is a hint of that which publicity cannot show—at least, as long as the private correlates with the other, more public layers.
The primary example was our entanglement with Baio. I accidentally put myself in the middle of it when I remarked on my own Twitter account that my preteen self would have been weirded out by Baio beefing on us. (You can see the fruits of that insight in the image above.)