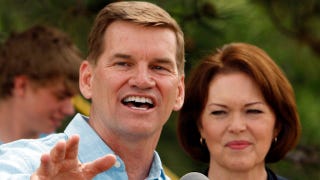 Well, we can't imagine what could go wrong here: Ted Haggard and Gary Busey are about to take part in ultra-classy reality show Celebrity Wife Swap. Because clearly what Haggard's marriage needs is more public scrutiny.
According to ColoradoSprings.com (via Huffington Post), Haggard and his wife Gayle will swap with Busey and his partner, Steffanie Sampson. Says the site,
On the surface, it might seem like an unlikely pairing, but there are several surprising parallels between Busey and Haggard. Busey is a born-again Christian and active minister with Promise Keepers, and Haggard has returned to the ministry as pastor of St. James, a new nondenominational Christian church in Colorado Springs.
Also, "the fun could come from the conflict between Haggard and Sampson, who's reportedly a spiritual woman but not a fan of organized religion." Or, from the fact that Haggard got a handjob and bought meth from a male prostitute, and has since made a variety of declarations about his actual sexuality that dragged his family through a media wringer while placating fundamentalist homophobes (he now says "probably, if I were 21 in this society, I would identify myself as a bisexual"). Or that Busey was once arrested for battery of his then-wife Tiana, and also accused of assaulting a flight attendant. Fun!