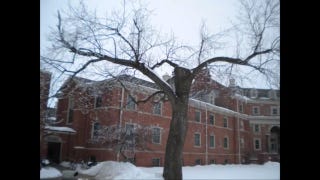 A former student is suing the University of Northern Iowa for what she says was its mishandling of her sexual assault case. Now the university's defense team is requesting a number of documents from her past — including accounts of her father's death when she was five years old.
According to the AP, the woman, whose name has not been released, was sexually assaulted by two football players in 2004, when she was a freshman. Both men ended up pleading guilty and serving prison time. But after the assault, the victim says the university failed to make the academic accommodations she asked for, to move her to a different dorm, or to take action against harassing phone calls she was receiving. Instead, UNI officials allegedly showed her "great animosity." She filed a lawsuit against the university in 2007. In order to defend itself against this lawsuit, the university has requested the following:
a copy of her diary
a record of her Facebook use since 2003
hospital records from a self-harm incident in 2005 and a suicide attempt in 2007, as well as counseling records from prior to the assault
records of her employment as an exotic dancer from 2006-08, which her lawyers say don't exist
"all documentation" relating to the death of her father, who she says disappeared in 1991 and was found dead in a car in a river
The volume and nature of the attorneys' requests certainly give the impression that they're trying to discredit the victim by making her look unstable or promiscuous. Says her attorney Pressley Henningsen, "It appears as though they are taking a tactic that has been shunned by pretty much every person on the topic for decades — attack the victim — and I don't understand why." Sadly, not everybody shuns it. University of Iowa grad student Rebecca Epstein believes her rape wasn't prosecuted because her bipolar disorder would make her too easy a target for defense lawyers. And victim-shaming remains disturbingly common practice, despite the fact that many decry it.