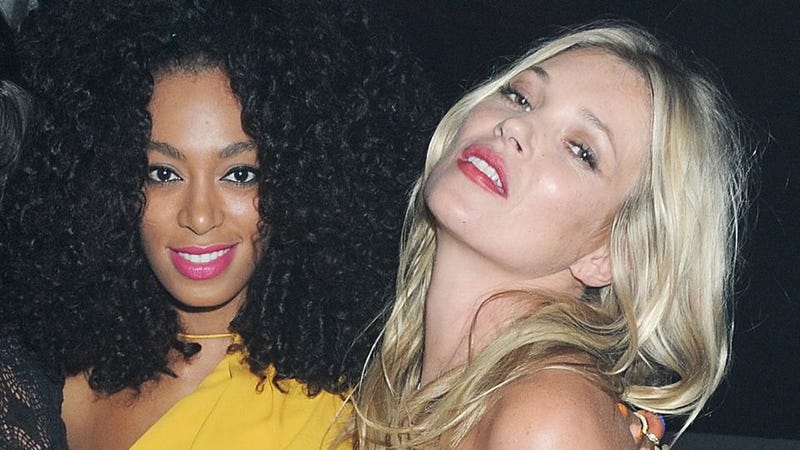 Solange Knowles called Kate Moss her "role model" because she effectively handles having a successful career and being a mother. To be fair, this was at an event celebrating Kate Moss's line for Rimmel, where it would have probably been weird to say anything actually less-than-glowing (coughcocaineisahellofadrugcough) about Kate Moss. [Us]
---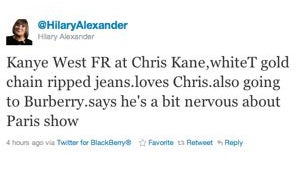 Telegraph
fashion critic Hilary Alexander Tweeted that
Kanye West
told her he was "a bit nervous" about his upcoming Paris show — thereby confirming that the rapper is indeed launching a fashion line with a Paris show. Meanwhile, Fashionista claims to have seen an invitation to said show. [@
HilaryAlexander
,
Fashionista
]
---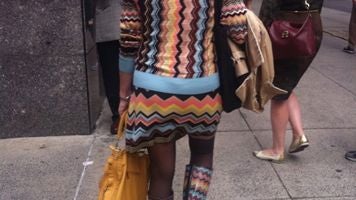 Here is a woman in Manhattan wearing head-to-toe
Missoni for Target.
[
Racked
]
In other (bad) news of the massively popular Target/Missoni collaboration, which repeatedly crashed the retailer's web site on its launch day, some customers who did manage to place orders have been sent emails informing them that
Target won't be able to ship the items they bought
by the date originally estimated, and may have to retroactively cancel their orders entirely. Ouch. Just putting this out there: Filene's Basement has a massive sale on Missoni (like, Missoni-Missoni) right now.
And
overstock from the Barneys Warehouse Sale. Hearing
stories
of
$40 Proenza Schouler dresses
, we ventured forth this weekend and snagged
these
green suede $800 sandals for less than a Benjamin. [
Racked
]
---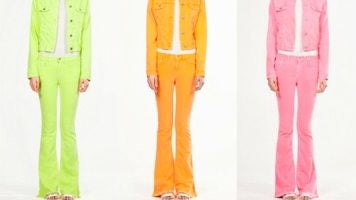 If you're looking for jeans so neon they're practically radioactive,
Christopher Kane
and
J Brand
have you covered. [
Telegraph
]
---