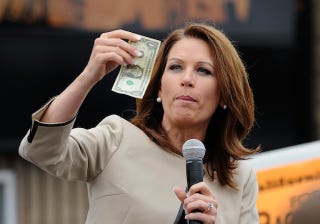 Michele Bachmann is continuing to all-out make up stuff about the HPV vaccine, but she never said she's a scientist. As it happens, one of them just bet her $10,000 to prove that there is a real person who developed "mental retardation" from Gardasil.
According to the marketing site ClickZ, the Bachmann campaign is buying up Google keywords for "Rick Perry HPV," upon which ads tell you to "Get The Facts on Rick Perry's Mandated Vaccines for Texas Girls," and "Get The Truth on Perry's Support of HPV Vaccines. Get Facts."
Also, today Bachmann released a video in which she questioned "whether our daughters should receive injections for sexually transmitted diseases." When you put it that way! Unclear whether one of her vaccine-free daughters made this video on her cell phone, or just an intern.
It's funny that Bachmann's campaign promises "facts," given how few of them she's been deploying.
For her part, Bachmann told reporters yesterday, "I didn't make any statements that would indicate that I'm a doctor, I'm a scientist or that I'm making any conclusions about the drug one way or another." Really? How about, in the debate, "Little girls who have a negative reaction to this potentially dangerous drug don't get a mulligan. They don't get a do-over," or her subsequent, repeated comments about the unnamed woman whose daughter allegedly developed "mental retardation" after being vaccinated?