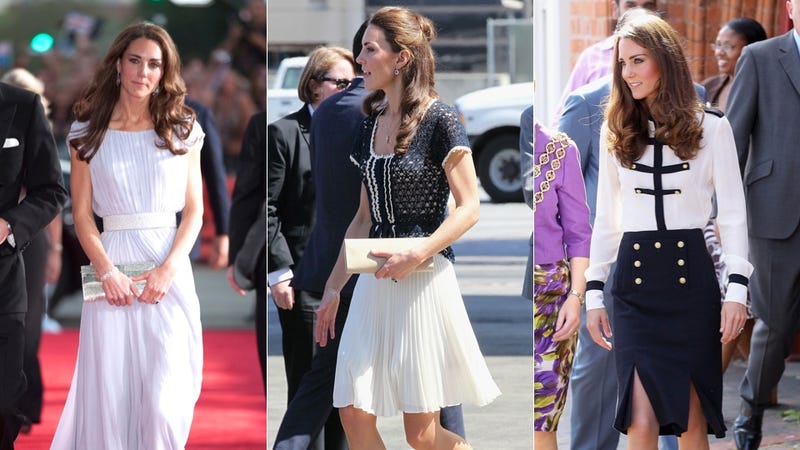 The fashion director of Nordstrom says of Kate Middleton's style, "She is stylish, but she's not setting trends, she's following trends. If you take Kate out of the Royal Family, put her on a street in New York, you wouldn't look at her twice. She's a beautiful woman, but she blends into a crowd." Elle's Anne Slowey adds, "Is she a style icon of the likes of a Kate Moss? Absolutely not. Is she in the public eye? Are people going to become obsessed with everything she wears regardless of what it is? Yes." All of these things seem not only true but pretty much beyond dispute. People have demonstrated that they will buy whatever Kate Middleton wears, and because of her position, she's not likely to be busting out the Chalayan or the Margiela anytime soon. [Daily Mail]
---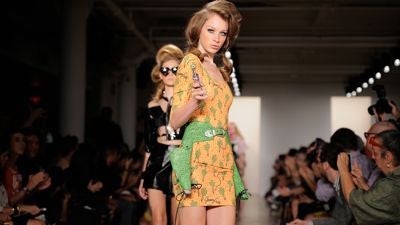 Yesterday, Jeremy Scott showed a spring collection inspired by Americana kitsch. There were vinyl cow-print chaps, fringed chaps, long chaps, chap-shorts — really, just about every kind of chap was represented. Think Elly May Clampett pigtails and metal-mesh dresses printed to look like Idaho potato sacks. Andrej Pejic walked, and Michael Stipe and Peaches Geldof were there, and the clothes were so exuberant the show-weary fashion press found it hard not to crack a smile.
Women's Wear Daily
has pictures. [
WWD
]
---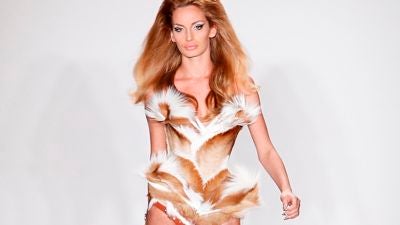 As for the Blonds, they put on a typically entertaining show. The Blonds do corsetry, extremely elaborate corsetry made of unconventional materials — disco balls; chain mail; there was even a springbok corset, pictured, that needs to be part of our
One Million Years B.C.
costume, stat. And the Blonds are basically the gayest thing ever to touch a woman's breasts. Their shows are fun, because the crowd that turns up isn't dressing for approval, they're dressing for expression. The people-watching is practically as much fun as the collection. And it's not like most shows, where everyone stews in an atmosphere of anxiety, tormented by the fear that somewhere nearby, someone is getting one more molecule of access/prestige/swag/air/publicity than they are. You actually talk to your seat-mates at the Blonds. You introduce yourself. You laugh. You see Kat Denning in a gravity-defiant styrofoam-trellis'd hairdo that she made herself. You see Miss J. and Mr. Jay chatting it up before the show. You see Amanda Lepore. You see a dude in a yellow bow-tie and blue jeweled graduation robes and he's not even sitting in the front row, he just came that way because he is awesome. So that was nice.
---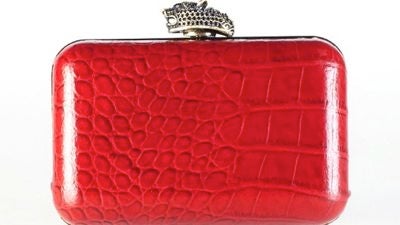 Clutches like these have earned Nicole Richie an Accessories Council Excellence award. Giving an award to a famous person is a great way of making sure she shows up to bring press to your industry event! [
WWD
]
---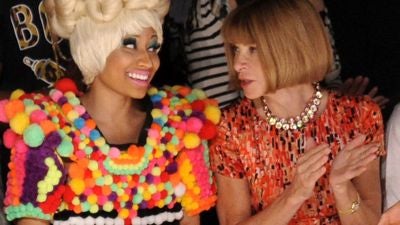 We wonder what they were talking about. Your take in the comments! [
CBS
]
Perhaps, just perhaps, they were talking about the neon puffball dress she was wearing. A young designer named
Jessica Raye Rogers
, who made a slightly different neon puffball dress claims that months ago claims Nicki Minaj's people contacted her, seeking additional pictures of her work. Nothing came of it — until Minaj was photographed in an outfit that strongly resembles the designer's original. The designer, naturally, feels she was knocked off. [
CocoPerez
]
---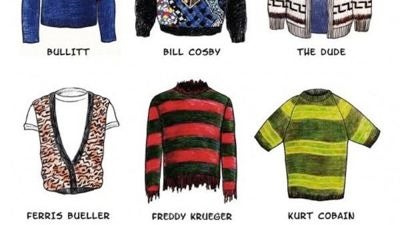 Some famous sweaters, illustrated. [
WOW
]
---