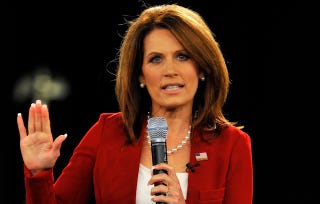 Michele Bachmann's stock is plummeting, but she has a chance in tonight's debate to come back — and directly face Rick Perry, who's been pilfering her base. That said, there will be so much to miss about her candidacy if it all falls apart.
Not only are Bachmann's poll numbers slipping, she's been abandoned by key campaign staff and possibly donors. Tonight's Republican debate at the Reagan library may yet bring some breakthroughs, namely in the first-ever social conservative/tea party darling faceoff between Bachmann and Perry. As David Corn puts it, "Bachmann's mission will be to take the shine off Perry's boots."
If she doesn't, here's what we can fondly look back on.
Her anti-choice, anti-gay bonafides and views on a woman's role.
From her panicked fantasies of being "kidnapped" by a lesbian who was trying to ask her questions, to her blithely signing a "family values" pledge when it included a paean to black families being better off during slavery, to her husband's advocacy of therapy to cure gays, Bachmann has helped mainstream the recent permutation of the most paranoid, retrograde politics around gender, marriage, and sexuality. It starts, of course, at home — with her statements on being a submissive wife, and the subsequent Orwellian declaration that "submission" means "respect." And then it gets legislated for everyone else!