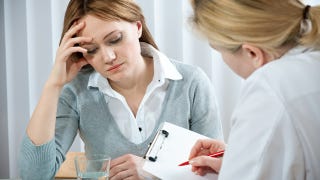 We may have a draw this week in the latest battle for abortion rights. A federal court has overturned a lower court's decision, finding that South Dakota can mandate that women seeking abortions be told they have a relationship with their fetus. Yet, since the ruling also said doctors can't tell women abortion increases their suicide risk, the decision is being claimed as a victory for those on both sides of the abortion debate.
The 8th Circuit Court of Appeals overturned a decision by U.S. District Judge Karen Schreier that struck down part of the state's larger "informed consent" law. According to the Associated Press, the court found that doctors can be required to tell a patient who wants an abortion that she, "has an existing relationship with that unborn human being and that the relationship enjoys protection under the United States Constitution and under the laws of South Dakota."
Schreier, who recently put a temporary block on another law that would have instituted a 72-hour abortion waiting period in the state, forced women to visit crisis pregnancy centers, and required doctors discuss abortion complications, had argued that the wording was misleading because legally, relationships only exist between people, and a fetus is not a person. Despite this point, he federal court says South Dakota can require doctors to tell women that the procedure will "terminate the life of a whole, separate, unique, living human being," because the statement, "conveys legal information that is truthful, not misleading, and relevant to the abortion decision."