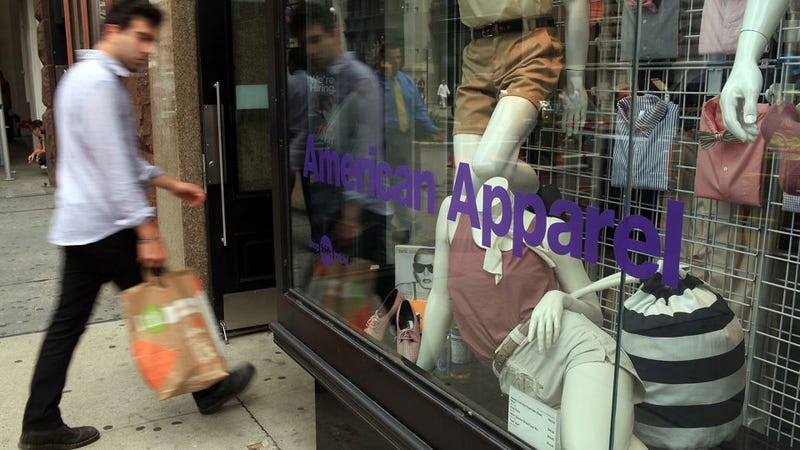 The investors that saved American Apparel from bankruptcy four months ago are selling their stock in the company. A consortium of investors bought $15 million worth of American Apparel shares at 90 cents a pop back in March is looking to sell those shares now that AA is trading at around 97 cents; the investors also have warrants to buy up to another $30 million worth of shares at the original 90 cent price over the next six months. Sounds like they're looking to make a quick buck, but are still not sure of the company's long-term prospects. [LATimes]
Additionally, two private-equity firms are sniffing around American Apparel's copious debt. The company owes Lion Capital some $86 million, which it has defaulted on so frequently that it's now paying 18% interest. Leonard Green & Partners, which recently took J. Crew private and also has holdings in Neiman Marcus and David's Bridal, apparently offered American Apparel a $100 million loan. What did they want as security? American Apparel has no money — seriously, the company admitted it had only $5 million cash on hand in March, which is less money than it had to pay in its settlement with Woody Allen for making him the star of a seasonal ad campaign without, you know, checking with him first — so Leonard Green asked for AA's intellectual property and brand name to secure the loan. And as has been reported previously, AA minority shareholder Ron "Air Fuck One" Burkle's company has also made overtures to acquire the troubled clothier's debt. Dov Charney, who was reached by Women's Wear Daily while sitting shiva for his grandmother in Montreal, had no comment on the stock sales or the debt deals. [WWD]
---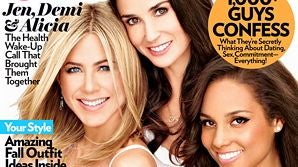 Jennifer Aniston, Demi Moore, and Alicia Keys
are on the cover of the new
Glamour
. [
Glamour
]
---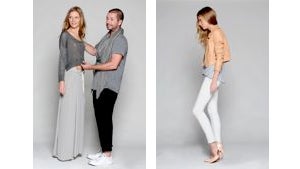 J. Brand
is moving beyond jeans for the first time next spring. Expect t-shirts, sweaters, jackets, skirts, and some non-denim kinds of pants. And they'll be really fucking expensive: prices range from
$200 and $1,500
. [
WWD
]
---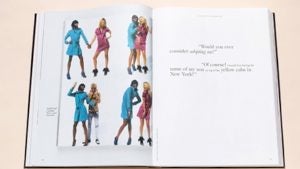 Carine Roitfeld
wonders sometimes if she's really all that interesting. "
Sometimes I say, What is so interesting about me?
I am just doing photo shoots. It's not something that extraordinary. I'm not a great artist, I'm not writing books, I'm not a painter, and people in the streets ask me for a picture or a note and I say why? But I think it's better to appreciate it, because maybe it's not forever."
Irreverent
, a book that looks back at some of Roitfeld's best shoots for
Vogue
Paris — including
this one
with
Carolyn Murphy and André J
— comes out this October. [
Vogue.com
,
Style.com
]
---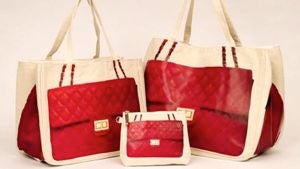 Thursday Friday
, the makers of those canvas tote bags that are screen-printed with appropriated images of overpriced status bags, like
Birkins
and
Chanel 2.55s
, say they are confident they're on the right side of intellectual property law. (Even though a lawsuit from
Hermès
did force the company to agree not to sell the "Birkin" totes anymore.)
Glamour
seems skeptical of this notion, but didn't
Richard Prince
pretty much
settle this
with
Marlboro
like 30 years ago? [
Glamour
]
---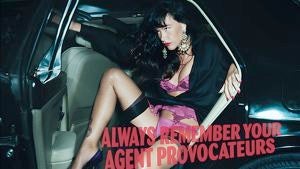 Paz de la Huerta
will appear in some ads for
Agent Provocateur
. Falling drunk out of a black limousine
while wearing expensive lingerie
is totally the classy way to fall drunk out of a black limousine. [
WWD
]
---