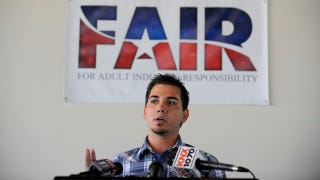 Porn sets across L.A. were quiet today, after an anonymous porn star's positive HIV test prompted adult film studios to temporarily halt production. The companies should be back to cranking out the smut Americans crave later this week, but the news has reignited the debate over the best way to prevent the spread of HIV and other STDs within the industry.
The L.A. Times reports that the Free Speech Coalition, a porn industry trade group, learned on Saturday that a performer may have HIV. The group contacted companies across California today, including larger studios like Evil Angel and Hustler, and they agreed to a temporary shut down until further testing is completed.
The group (rightly) hasn't released information on the performer's name, age, or gender. Diane Duke, executive director of the Free Speech Coalition, says that the person tested positive at an out-of-state facility "that does not appear to have protocols or procedures in place for medical follow-up (including generational testing)." It's unclear exactly what procedure the group is following, but Duke says, "retesting and confirmation is underway as is the process of identifying and testing first- and second- generation partners."
Just last month, the Free Speech Coalition launched a new porn performer STD database, which includes results from actors' monthly tests. Last year, the old database run by AIM Medical Associates was sued by two performers who say their privacy was violated when their HIV status was released. The new system only tells agents and producers whether the performer is available to work, but it won't be up and running for another month.