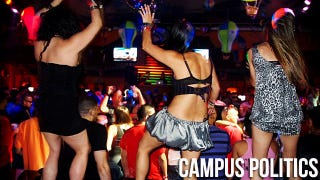 Despite continued news about women's academic success in college, concerns are growing that male students still call the shots. One symptom, according to some, would be what we'll call "fashion inequality." Specifically, it's only the ladies who are getting all dolled up.
On Friday, Lisa Belkin of the Times provided a rundown of recent sexist e-mails sent by college assholes, and asked, "what are we to make of the fact that lessons of equality, respect and self-worth have been heard when it comes to the classroom, but lost somewhere on the way to the clubs?" She draws from interviews with students, who cite a number of inequalities. Says one student at the University of Utah, "It's usually the guys who are throwing the social events and the girls are guests, so it gives them power over the girls." Another, from Princeton, explains,
When the guys go to the [eating clubs] they are laid-back, casual, like they are going to class. But the women come in, in short cocktail dresses, makeup, high heels. Sometimes it can be like if you're a girl and you don't dress up, there's a social expectation that you should dress up and you should appear sexually available.
This sartorial mismatch is oft-noted in feminist circles and beyond — and when I spoke with college women, several echoed the Princeton student's analysis. Jamie Keiles, author of The Seventeen Magazine Project and current University of Chicago student, says,