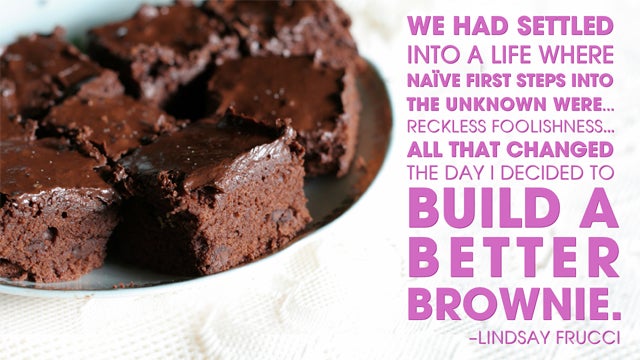 S
It's a story as old as baked goods—a loving mom faced with financial hardship, but supported by friends and family, decides to take matters into her own oven and cooks up a way to bring herself back from the brink. Facing all sorts of hurdles along the way, she eventually overcomes adversity and finds herself literally rolling in dough. (Oooph, yeah, we just went there.)
But this is hardly a Betty Crocker, lace apron 'n heels, church bake sale kind of tale. Lindsay Frucci, baker, businessperson and author of the new memoir, The Pig & Me, developed her line of No Pudge! brownie mixes—whose moist, chocolaty goodness you've probably smacked your lips at in the aisles of Trader Joe's—as a health-conscious alternative to egg and oil-heavy options on the market. Read Frucci's description of her experience below:
While my husband traveled for work, I was a single-mom, living in a 200-year old farmhouse in the middle of nowhere, trying to grow a business in a male-dominated industry while juggling the needs of an angry husband, a crabby (occasionally naked) father, a Steel Magnolia step-mother and two adorable kids. Throw carpenter taste-testers, an 800-pound gorilla, a Summer from Hell, and some soft-drawling, southern boys into the mix, and you have a story too crazy to be fiction…The fairy tale is an enviable, business success story. The reality is the story of a woman who was raised hearing "You can't" and found, to her surprise and great satisfaction, she could - and then some.
The Pig & Me is available now on Amazon, head there now to order your copy.