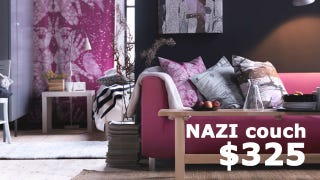 The founder of IKEA — which once seemed like the most wholesome of all multinational companies — was apparently a Nazi. At this point, basically every retail chain is tainted with some sort of scandal. Here's a helpful guide.
IKEA
According to the Telegraph, a new book reveals that founder Ingvar Kamprad was a member of the Swedish Nazi party, and that he once wrote that he "misses no opportunity to work for the movement." But it's okay — he totally had a Jewish friend!
Zara
A Brazilian newspaper reports that manufacturers for the clothing retailer keep employees in de facto slavery. According to the LA Times,
In Sao Paolo, migrants primarily from Bolivia — including minors and undocumented immigrants — were found to be producing Zara clothes in sweatshops with poor ventilation and hygiene and unacceptable fire risks. Workers were being paid a little more than $1 for jeans that would eventually retail at more than $100, and some were locked into paying their wages to human traffickers who smuggled them into the country, reports said.
Zara's parent company calls this "unauthorized outsourcing," which is especially sinister.
Urban Outfitters
This purveyor of shit with states on it has been accused of copying an independent jewelry designer. Also, founder Richard Hayne donated $13,150 to the Santorum campaign. Oh, and the company sold t-shirts bearing unlicensed and sexualized photos of an underage model.