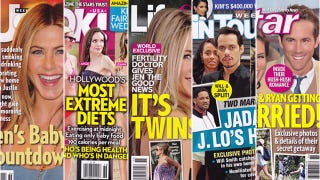 Welcome back to Midweek Madness! Every Wednesday, we boldly go through the pages of In Touch, Star, OK!, Life & Style, and Us, as part of our continuing mission to seek out actual gossip. This week, Ryan Reynolds and Sandra Bullock decide to get married even though they aren't actually dating, twins have taken up residence in Jennifer Aniston's uterus, and Will Smith sees something that makes him cry.
---
OK!
"HOLLYWOOD'S MOST EXTREME DIETS"
Did you know that Gwyneth Paltrow works out with Tracy Anderson, Jennifer Aniston's tried the baby food diet and Beyonce used the Master Cleanse to lose weight for Dreamgirls ... in 2005? We understand that it's August and the editors of OK! wanted to start the weekend early, but the fact that they didn't even bother to make up new diet dirt just hurts. Moving on: The mag has discovered the truth about Brad Pitt's "mystery woman," otherwise known as his assistant. Lara Marsden, a fetching 25-year-old, is constantly by Brad's side — because that's her job. The editors raided her MySpace page and discovered that she bites her nails, declares, "[I] don't read books," and once wrote on a boyfriend's wall, "We've fucked more times than there are drops of water in the sea." Her mother must be so embarrassed ... that she still has a MySpace page. There are photos of Ryan Reynolds and Sandra Bullock hiking together with baby Louis strapped to Ryan's back, and for the tabloids this is irrefutable proof that they're in love. Supposedly Ryan's "telling everyone who will listen that he loves Sandy and her son, Louis, and wants to be a family," but there's one major problem with this story: Unlike the other mags, OK! forgot to crop out the other friends who were on their romantic hike. There's also an absurd sidebar about how Louis is copying Ryan's style, but we love that baby's side-eye, so we're not complaining (See Fig. 1).
Grade: F (Realizing everyone around you is a regular cast member ... and you're wearing a red shirt. )
---
Us
"JEN'S BABY COUNTDOWN"
This may not be the first time that you've heard Jennifer Aniston has a bun in the oven, but this time there's no denying it's true! Last weekend she didn't drink alcohol at a party for Portia de Rossi and Ellen DeGeneres, friends say she's stopped smoking, and she wore a baggy top two weeks ago. Plus, while on vacation in Hawaii, she often slept in until 10 a.m., so clearly she's suffering from morning sickness. Next: The mag has pictures of Tia Mowry's new baby, Cree Taylor Hardrict, and in a shocking turn of events, he looks like a baby. In other surprising news, during a drunken phone call, Ashlee Simpson called Pete Wentz and told him "how much she misses him and wants him back." Good thing none of us have ever done something so embarrassing.
Grade: D- (Space ship appears to have no bathrooms.)
---
Life & Style
"IT'S TWINS!"
Now Jennifer Aniston isn't just pregnant — she's expecting twins! Except, once you've purchased the magazine, you'll find that this story is actually about some anonymous insider claiming that Jen wants to get pregnant with twins and has been discussing in vitro with a specialist. A second source says Jen "hasn't colored her hair in months" ... or perhaps she just forgot to touch up her roots before leaving for vacation. Life & Style had a screener of the next episode of Real Housewives of Beverly Hills and provides a summary of the footage that's probably going to be cut due to Russell Armstrong's suicide. In one scene, Taylor tries on lingerie while shopping with friends and says, "Hopefully, Russell will like it." Later, she cries when Lisa's husband makes fun of couples' therapy. She sobs even more while sitting in a (walk-in) closet and Adrienne tells her she's having a nervous breakdown. In other news, Life & Style, which ran a cover story claiming Katie Holmes is "skin and bones" just last month, is now tremendously concerned about body snarking. Earlier this month Reese Witherspoon was photographed on the beach with her family, and "mean commenters" on PopSugar.com "went on the attack." They said she was out of shape, but Witherspoon "proudly flaunted her bikini bod again during a surfing lesson on August 16 and unabashedly tucked into a juicy hamburger the next day." Some suggested Reese was pregnant because her belly was protruding a bit, but the mag says, "having tabloids mistake a normal figure as baby weight can be hurtful — and disappointing. Instead Reese, who isn't pregnant, should be lauded for supporting a health body image." Sounds like someone at Life & Style is experimenting with their emotion chip.
Grade: D (Evil android twin assumes your identity, manages to fool friends again.)