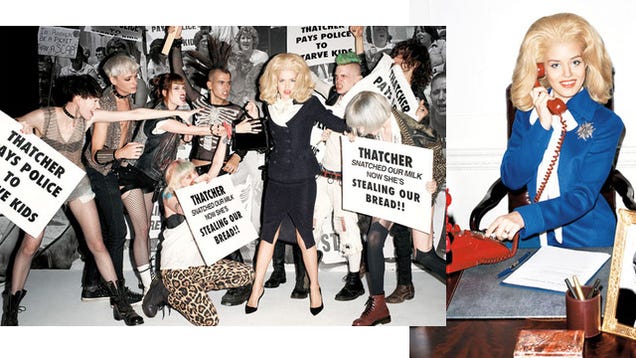 Who says the fashion industry isn't responsive to the social issues of the day? As the U.K. suffers with widespread civil unrest and looting following the police shooting of a father of four, Harper's Bazaar's September issue includes a Terry Richardson editorial where Georgia May Jagger, styled to look like someone's idea of Margaret Thatcher, goes about her daily life — fighting punkers, nervously peering over the tops of tanks, chatting on her red telephone. Pity really there's no good way to represent "union-busting" in a fashion spread. Let's just point out Brassed Off covered this territory a lot better 20 years ago. [CQ]
---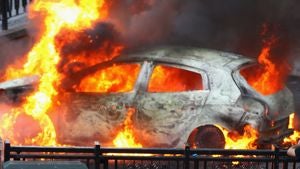 Rioting in the U.K.
continued last night. Although London was quieter, with the presence of 18,000 police officers, violence intensified in northern and central England, with Manchester and Birmingham seeing renewed unrest. Although most of the luxury retailers on London's Bond St. removed their stock from the front of their stores and nailed boards over their windows, rioters managed to break into a
Louis Vuitton
store in Birmingham. [
WWD
]
---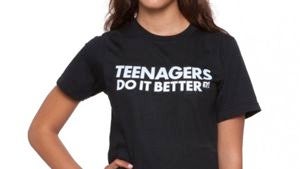 American Apparel
is now selling a "Teenagers Do It Better" t-shirt. Which is funny, because if there's one area where teenagers have proven proficient, it's suing
Dov Charney
for sexual harassment. [
Styleite
]
---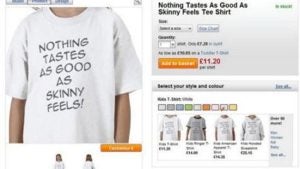 In other news of ill-advised t-shirts, a U.K. retailer thought it would be cool to sell kids tees with
Kate Moss
's favorite motivational phrase: "Nothing tastes as good as skinny feels." The Advertising Standards Authority thought otherwise, and censured the retailer. [
Metro
]
---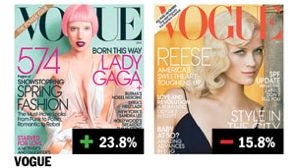 Circulation numbers for the first six months of 2011 are in, and for the ladymags, they are not good. Only
Vogue
experienced a year-on-year rise in readership. It was up by 12.7%, buoyed largely by its popular
Lady Gaga
cover.
Allure
was flat. Every other magazine saw its readership shrink.
InStyle
by 8%,
Marie Claire
by 21.5%,
Glamour
by 17.5%,
Harper's Bazaar
was down 14.3%, and
Lucky
and
Elle
were each down 9%.
Harper's Bazaar
says its worst-selling cover of the period was Julianna Margulies. "We
took some risks
this year and tried stars that were a little outside of the norm for us, and they didn't always translate into newsstand sales," says Glenda Bailey. Either readers didn't reward your edgy, edgy risk-taking, Glenda, or readers are
really
tired
of seeing a celebrity in a white dress and the words "Fashion!" and "BEST BAGS AND SHOES" on every. single. issue. [
WWD
]
---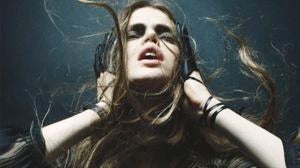 Prabal Gurung
isn't doing an ad campaign — but he did want to create some "branding images" to remind people about his fall collection. It was inspired by
Great Expectations
. "It's a book that I was given when I was probably 6 or 7 years old," says the designer. (
Karl Lagerfeld
read
Buddenbrooks
when he was 8; maybe Prabal and Karl should have a book club for precocious kid grown-ups.) "At that time I was kind of unclear about who [Miss Havisham] was — she's a crazy old lady, that's what I thought. As I got older and kept going back to it, [I found that] there's something extremely, extremely sad, but all of us can somehow relate to her. There's something beautifully melancholic and romantic about giving everything up for love, giving so much."
Julia Saner
is featured in the ads. [
Style.com
]
---