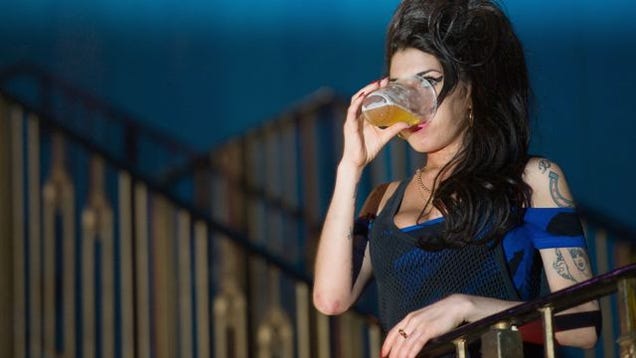 An old boyfriend of Alexander McQueen says that Amy Winehouse and the designer had a feud. McQueen offended the singer when they met — the boyfriend doesn't say how, but it was apparently serious enough that when McQueen sent Winehouse a £15,000 dress by way of apology, she burned it. On her barbecue. Winehouse also once spat on a McQueen dress at a department store; the store made her pay for it, which she agreed to do. "Fine," she supposedly said, "but tell Alexander McQueen I ruined his dress." [Daily Mail]
After consulting with the late singer's family, fashion label Fred Perry will produce two more collections from its collaboration with Amy Winehouse. "Amy's royalties and fees from both collections will be donated to the soon-to-be-established Amy Winehouse Foundation," explained the company. "Fred Perry will also make a seasonal donation to the Foundation." [WWD]
---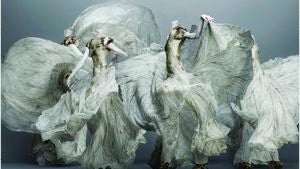 The
"Alexander McQueen: Savage Beauty"
show at the Met closed this weekend, having broken all kinds of attendance records. During the final weekend, when the museum kept the show open 'til midnight, lines stretched for entire city blocks. Among the last to see it were
Ladyfag
, and a 14-year-old girl and her mother, who had sewn a copy of a McQueen tartan dress from his Widows of Culloden collection
and
a copy of McQueen's famous white dress, which was spray-painted by automotive robots live at one of his shows. "'I've still got spray paint on me,' Bella said, lifting the first dress to show a leg speckled in green," reports the
Times
. [
NYTimes
]
The McQueen show was not only the most well-attended Costume Institute show ever, by the time it closed it had become
the Met's eighth most popular show
of all time. [
Artinfo
]
---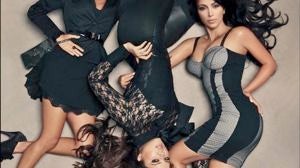 The
Kardashian Kollection for Sears
isn't even in stores yet — but if you'd care to pre-order some $25 panties or a $99 stretch jersey dress or a $22 plastic-and-rhinestone ring, sight unseen, you can do so now and get 30% off. $17 panties! Awesome. [
Racked
]
---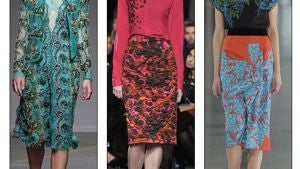 It's been a long time since fashion had a story about
hemlines
. Designers showed a lot of
midi skirts
— that's below-the-knee skirts, to us plebs — for fall, and this time,
Alexandra Shulman
swears it'll be different. Women have traditionally been resistant to the whole shit-or-get-off-the-pot in-between-ness of midi skirts (just read Kennedy Fraser's take on the Great Midi Debacle of 1970: "Last year, our skies rang with charges that the new lengths were regressive and inappropriate"). Shulman, the editor of British
Vogue
, strikes a reassuring note: "Not that anyone is going to be deprived of the mini altogether, it's just that we are going to have more options." [
Daily Mail
]
---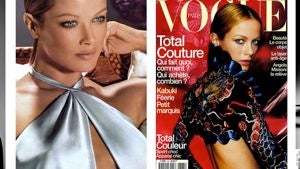 Supermodel
Carolyn Murphy
's biggest regret? "
Not going to college
, I would have loved to major in literature." [
Models.com
]
---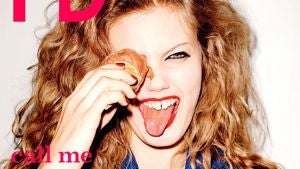 Lindsey Wixson
, 17, was shot poking herself in the eye with an ice-cream cone for the latest issue of
i-D
. [
FGR
]
---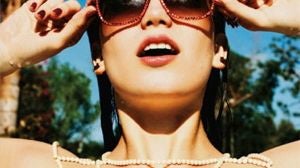 Daisy Lowe
posed for the cover of the new
Playboy
. And inside, she wears a pearl necklace. Geddit? Yeah. Also, nobody has any pubic hair anymore. [
CQ
, link NSFW, duh]
---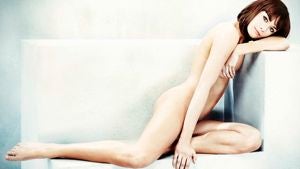 Britain and Ireland's Next Top Model
did a
nude shoot
. Surprised it took them this long. [
Daily Mail
]
---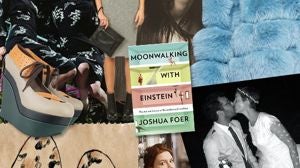 Things that make you go "huh":
Josh Foer
's
Moonwalking With Einstein
, a cultural history of memory-cum-narrative of the author's journey to the finals of the U.S. Memory Championship, made it onto Fashionista's August "mood board." Right next to Lara Stone, Johnny Depp and Kate Moss, Miu Miu, Marni, and Angela Chase. [
Fashionista
]