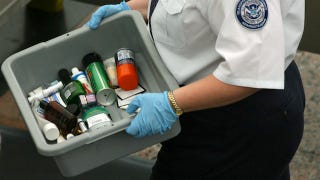 The TSA has apologized — sort of — to a pregnant woman who says agents took her insulin even though she had a doctor's note stating it was necessary. Will new procedures bring an end to all these airport horror stories?
The Colorado woman, who hasn't been identified by name, told 7News that TSA agents at Denver International Airport told her that her insulin and ice packs were "at risk for explosives," even though the insulin was correctly labeled and accompanied by the required note. She adds, "When I started asking for names of people, everybody scattered even more and left me crying at the TSA checkpoint." She says she was able to take a half a vial of insulin through security because agents didn't find it, which makes the whole thing even more depressing — according to her story, the agents weren't even effective in their needless confiscation.
The agency, however, tells a different story. They've apologized, but they also say they never took the insulin: says spokeswoman Pat Ahlstrom, "We talked to all of our people and they didn't touch her insulin." Gosh, it sure is reassuring to know that a federal-level security kerfuffle can be reduced to finger-pointing.
It's unclear whose version of the story is correct, but the American Diabetes Association has said that regardless of what happened to the woman, people with diabetes often run into security problems when flying. And the insulin story is just one in a line of TSA scandals so long it's mind-numbing. Will the price of air travel always be invasive searches, pointless confiscations, tears, and rage?