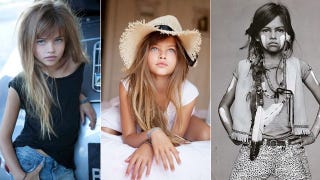 Fashion has a new muse, and she is 10 years old. Meet Thylane Loubry Blondeau.
The child model's parents are Patrick Blondeau, a former soccer player, and Véronika Loubry, who used to present a celebrity news show on French television and now designs a mother-daughter clothing line. Thylane has graced the cover of Vogue Enfants, starred in ad campaigns for the children's lines of major brands, and regularly works with top fashion photographers including Dani Brubaker. She started early: in October, 2005, at the age of 4, Thylane walked in Jean-Paul Gaultier's spring show. She came to my attention earlier this year, when she was one of the models featured in a Vogue Paris — that's regular, grown-up Vogue, not kiddie Vogue — editorial that took fashion's fetishistic, often exploitative relationship with extreme youth as its subject. Now there's a "Fuck Yeah" Tumblr devoted to her every move. [UPDATE: The blogger behind the Tumblr has now changed the name to "Thylane Blondeau Pictures."]
Click any photo to enlarge.
I personally found the Vogue Paris editorial refreshing. Sure, it was disturbing, but it seemed purposefully, knowingly disturbing — disturbing in the sense that it aimed to perturb and provoke a reader to question the fashion industry's treatment of young girls as a kind of natural resource to be transformed into product, which is, you know, itself disturbing. It was published in the knowledge that outrage would follow, and, like clockwork, outrage swiftly came.