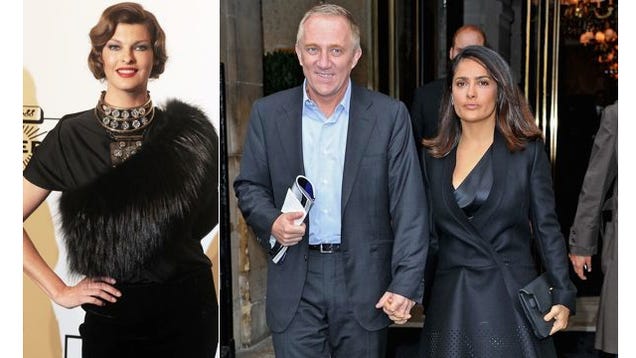 Linda Evangelista recently revealed in a court filing that the father of her 4-year-old son is not, as she'd claimed previously, "a Manhattan architect," but is in fact François-Henri Pinault — husband of Salma Hayek, father of her 3-year-old daughter, and one of the richest luxury tycoons in the world. Now in a new filing, the supermodel's lawyers have revealed that they are seeking $46,000 a month in child support. The judge in the case says that would be the biggest support order in New York family court history. Pinault, who is worth an estimated $11.5 billion, runs the conglomerate that owns Gucci, Alexander McQueen, Yves Saint Laurent, and Bottega Veneta, among other brands. According to Evangelista's lawyers, he donates $50,000 a month to an $11 million trust fund for his daughter with Hayek, but has never paid a cent for the care of Evangelista's son. Evangelista — who herself is worth around $11 million — wants, among other things, $175,000 a year for ex-police security and drivers, and $80,000 for a round-the-clock nanny. [NYPost]
---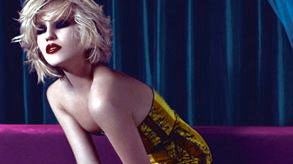 Glee
's
Dianna Agron
is in a fashion spread in the new
Flaunt
. [
E!
]
---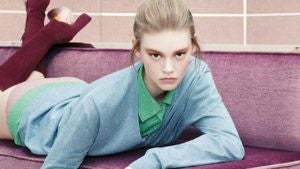 This fall's major luxury ad campaigns include three that feature very young celebrities:
Hailee Steinfeld
, 14, is the face of
Miu Miu
,
Elle Fanning
, 13, is the face of
Marc by Marc Jacobs
, and
Dakota Fanning
— who herself fronted
Marc Jacobs
when she was 13 — is now the 17-year-old face of Marc Jacobs' Lola perfume. This has various people Very Concerned about The Children and such. What these people are not concerned about, at all, as far as we can tell?
Prada
— which calls Miu Miu its "little sister" — shot a
13-year-old
girl for its seasonal campaign. Her name is
Ondria Hardin
, she is pictured here at right, and she's a model from North Carolina. (She has turned 14 since the Prada ads were shot.) We suspect that it's because she's a model, and not a celebrity, that nobody particularly cared to report on her age. Models commonly begin their international careers at age 13-14. With proper supervision, a fashion shoot isn't necessarily an inappropriate place for a young teenager to be, but all of this alleged concern strikes us as bogus insofar as it extends to the famous teens who moonlight in this industry, but not the relatively anonymous (and much less privileged) girls who work in it every day. [
NYPost
]
---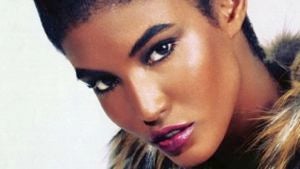 Philadelphia-raised
Sessilee Lopez
, who has been modeling since she was 14, says it took a long time for her to realize she had "made it." Even a cover of
Vogue
Italia, which she bagged back in 2008, didn't quite do it. "But then one day, I got recognized when I was back home by some, like, thugged-out, gangster dude. And I was like, 'Wait, how does this guy know about me? He's not in fashion.' But
he said, 'You're the girl from here who made it. You made it! Know that! Own that!' He took a picture on his phone and said, 'I'm going to put this on Facebook.'
" Also, once
Christian Siriano
— whom Lopez calls one of her favorite designers to work with — put her in a dress that was so tight she couldn't sit down. "It was this feathery number. I was like, 'Can I sit?' and he's laughing like,
'Bitch, do you know how many hours I spent plucking those birds?'
" [
WWD
]
---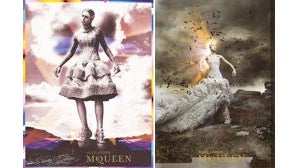 Raquel Zimmerman
stars in
Alexander McQueen
's gorgeous fall campaign. [
Fashionologie
]
In other McQueen news, the Met's show,
"Alexander McQueen: Savage Beauty,"
on Sunday night became the most popular Met Costume Institute show ever, when it welcomed its
582,000th visitor
. Opening day attendance was higher than for any other special exhibit, save for a
Van Gogh
show the museum mounted in 2005. It later
overtook
the Van Gogh show, and Savage Beauty doesn't close till August 7th. Determining which is the "most popular" Met show ever is difficult, because the museum mounts many different special exhibitions of varying durations. A show of
Jeff Koons
' "balloon" sculptures drew over 657,000 viewers, but it was up for six months. [
On The Runway
]
---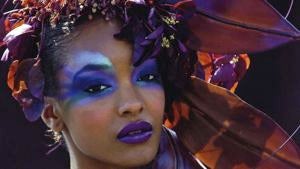 Jourdan Dunn and Natasha Poly
are in a beauty editorial in the new
Vogue
Paris. [
FGR
]
---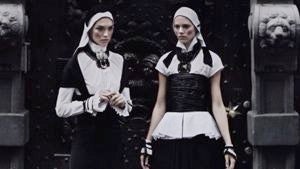 Freja Beha Erichsen
and her girlfriend
Arizona Muse
star in an editorial inside Freja's issue of British
Vogue
. [
Fashionologie
]
---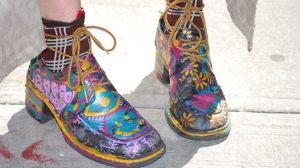 Australian model
Myfanwy Shepherd
wears hand-painted shoes. Her life motto?
"Don't fuck your friends."
[
Fashionista
]
---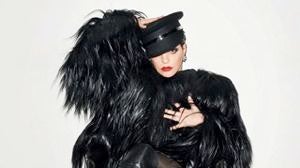 Terry Richardson
shot
Liza Minnelli
for the new issue of
LOVE
. [
Vogue UK
]
---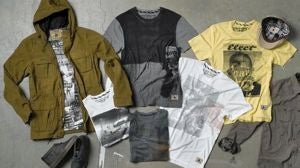 Dennis Hopper
's photography is the basis for a new
Vans
collection. [
WWD
]
---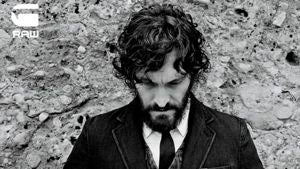 Well, this is...interesting. Sperm vendor, front-row
lunatic
, Republican filmmaker
Vincent Gallo
is in the new
G Star
campaign. [
WWD
]
---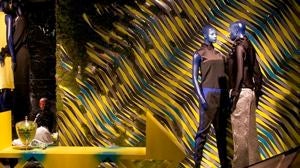 Dennis Freedman
, the former longtime creative director of
W
, took over as Barneys New York's chief window-dresser from
Simon Doonan
. So we're trying very hard not to automatically hate him and everything he does. His first effort at doing all of the store's windows includes a contribution from the architect Rafael de Cárdenas, who was inspired by a
Fassbinder
film. Another window display "was built from found materials such as
recycled garbage and melted detritus
." [
WWD
]
---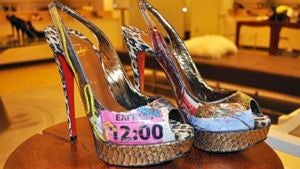 Speaking of garbage,
Christian Louboutin made a pair of shoes out of trash
. He calls them his "eco-pumps," and they cost
$1095
. [
The Gloss
]
---