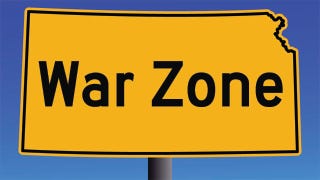 For the second time this summer, a federal judge has struck down a ridiculous law passed by the Kansas legislature that would have limited women's access to healthcare.
Yesterday U.S. District Judge J. Thomas Marten granted a preliminary injunction to block the enforcement of a law that required federal family money to be spent at public health institutions first, leaving no money for family planning clinics like Planned Parenthood. According to the Washington Post, the amendment would have forced the organization to shut down one of its three branches in the state:
Planned Parenthood had argued that without the injunction, it would have lost $330,000 a year in federal funding and been forced to close its clinic in the western Kansas city of Hays. It contended its 5,700 patients would face higher costs, longer wait or travel times for appointments and have less access to services.
In Kansas Planned Parenthood only performs abortions in Overland Park, which is the only licensed abortion clinic in the state, thanks to the extreme new regulations. The Hays clinic only provides birth control, cancer screenings, and breast exams for low-income patients.