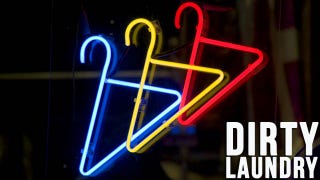 Most of us only know that when we bring clothes to the dry cleaner, a few days later they come back perfectly clean (except for that one stubborn spot and the missing button). Dry cleaning is actually a more harsh, and environmentally harmful, process than you might think, but new regulations may be changing the way the industry operates.
Today the Wall Street Journal has a guide to the secrets of the dry cleaning world. Here's how it goes: First it's tossed on a pile with everyone else's nasty, stained clothing and sorted by fabric, color, or stain. It's then pre-treated and placed in a large washing machine that uses solvents instead of water. The machine includes a receptacle that lets dry cleaners collect all the buttons that popped off. They're sewn back on so you never realize that your clothing was violently ripped apart in the machine.
Then any remaining stains are spot cleaned, and the garment is pressed in a machine — unless it's a woman's shirt. As shown by a previous study, women generally pay 73% more than men for shirts, ostensibly because blouses don't fit in the steamer and must be hand ironed.