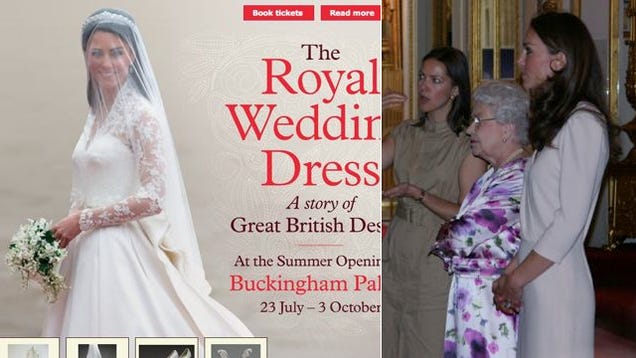 Kate Middleton's Alexander McQueen wedding dress, along with her veil, shoes and jewelry, goes on public display at Buckingham Palace starting tomorrow. Middleton and her grandmother-in-law just checked out the exhibition, which we know because the Official Royal Twitterer (The Lady Of The Tweets? The Keeper Of Her Majesty's @Reply? The Honorable Corps Of Gentlemen-At-BlackBerrys?) just Twitpic'd it. Welcome to the 21st Century. [@RoyalMonarchy]
Up to 650,000 people are expected to attend the show. [AP]
---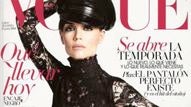 Katie Holmes
dressed up in a skintight black lace catsuit and leather daddy's cap for the cover of Spanish
Vogue
. [
E
]
---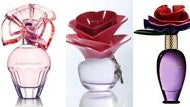 Today we're going to talk about
perfume bottles that are topped with oversized, stylized flowers
with three-dimensional plastic petals. The first entry in recent memory into this niche category was
Marc Jacobs
' "Lola" (right). Then
Justin Bieber
launched "Someday," (center) which made a ton of money, and everyone thought it was funny that the bottle looked so much like Lola, but Marc Jacobs said he wasn't going to sue them or whatever. Perhaps emboldened by that news,
BCBG
has now made its contribution to the Large Flower Perfume meme (left). Um, what gives? [
WWD
]
---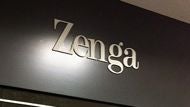 There's
something wrong with this sign
spotted at the Bloomingdale's New York flagship. [
Racked
]
---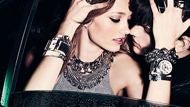 Karmen Pedaru
stars in
Michael Kors
' fall campaign. [
Ford
]
---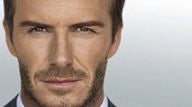 Here's
David Beckham
's ad for his new scent David Beckham Homme. [
WWD
]
---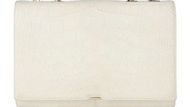 Meanwhile,
Victoria Beckham
has designed a "limited-edition" handbag in white crocodile. It costs
£8,995.
[
Vogue UK
]
---