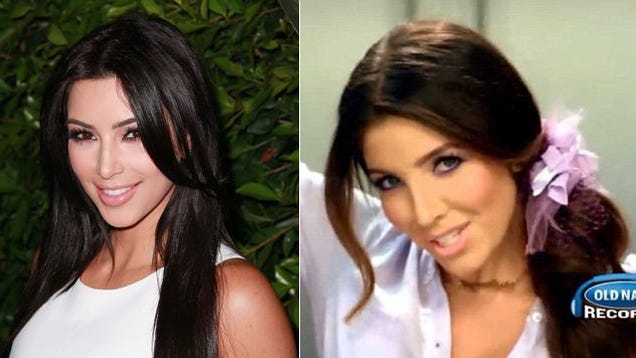 Kim Kardashian is suing Old Navy for up to $20 million. Why? Kardashian alleges that the chain purposefully cast a model who looks just like her in its new ads, with the intention of misleading customers into thinking that the chief Sister K was somehow affiliated with the brand. And it just so happens that the model, Melissa Molinaro, is also dating Kim's ex, Reggie Bush. (Guess he has a type.) Molinaro is pictured here on the right; Kim's on the left. Old Navy has been enjoying the publicity: the ad has been viewed over 1.7 million times on YouTube. [Daily Mail]
---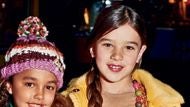 Hailee Steinfeld
doesn't think that at 14 she is
too young
to be the face of a major luxury brand,
Miu Miu
. She points out that before she earned her role in
True Grit
, she did a lot of "print" work, which is what people who are primarily actors call modeling in ads. She was even in a
Guess
campaign in 2007 (pictured) — but we'd point out that the difference is there she was depicted as a kid, and for
Miu Miu
Steinfeld's supposed to be the avatar of a grown-up.
"I think the best part about this collection and the campaign is the fact that it's so sophisticated,"
Steinfeld says. "It's timeless. And
I think for younger girls like me it works.
It feels appropriate." Steinfeld reportedly "spent most of the evening" at Miu Miu's recent party in Los Angeles talking with
Tavi Gevinson
, who we're guessing was probably the only other teenager around. [
Fashionista
]
Fashion writer
Mary H.K. Choi
is nonetheless troubled by Steinfeld's
Miu Miu
ads — though she's not particularly concerned for models who regularly work for major luxury brands and magazines in their early and mid-teens: "I do also know that there are models a scant year older that routinely grace magazine covers and trot down runways for all the world to see in undoubtedly gorgeous but skimpy outfits. But, and maybe this is just me, models are SUCH phenotypic anomalies that they sort of have nothing to do with regular, young, female, girls." She thinks Steinfeld sets a bad example precisely because she is presumably more relatable than models are: "My point is this. I just feel like
the platonic ideal of beauty these days seems a little screwy
and is quickly becoming more bonkers...My concern is that
I don't want 12-year-olds to know about $500-$1,200 ballet flats.
I don't want them to get it twisted that they have to dress in the demure gown that a 50-year-old who had to endure four divorces to claw her way to a specific tax bracket would also wear." [
MTV Style
]
---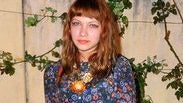 Speaking of
Tavi
, she's working on a
book
with one of our
favorite
authors,
Marisa Meltzer
! The two are shopping a proposal for a book tentatively titled
Diary
, which will be about "the state of being a teenager."
Women's Wear Daily
reports that the work will be "one part make-your-own scrapbook, one part
feminist manifesto for girls
and one part celebrity memento collage, featuring art made by
Miranda July
or
Rodarte's
Mulleavy sisters when they were young. It will also include plenty of less heady material: instructions on 'how to make a friendship bracelet,' entries on 'why crushes are so essentially teenage' and perhaps a page to
design your own tote bag or 'dream pizza.'
" [
WWD
]
---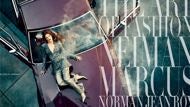 Drew Barrymore
stars in some "Old Hollywood"-themed Neiman Marcus ads. [
WWD
]
---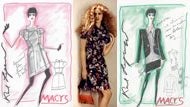 The first photo and two sketches of
Karl Lagerfeld's fall Macy's collection
have appeared. The 45-piece line will retail from
$50 to $170
, and the floral print dress pictured here costs $109. The Macy's line will be limited to 6-8 weeks in stores, but Lagerfeld is also prepping for the relaunch of his eponymous collection, which he suspended last September. The new Karl Lagerfeld brand will be about what he calls "mass elitism," and it will be sold primarily online. [
Fashionologie
,
WWD
]
---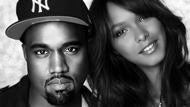 Photographer
Russell James
is Tweeting behind-the-scenes shots from the
Victoria's Secret
holiday catalog. Naturally, Kanye stopped by the shoot. [@
Russell_James
]
---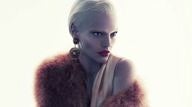 Sasha Pivovarova
sports a bleached blonde 'do in the fall
Armani
campaign. [
WWD
]
---