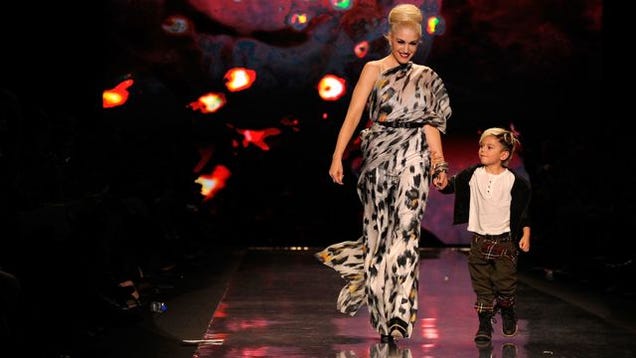 Target's next limited-edition designer collaborator is...Gwen Stefani. She'll be doing a children's line, to be precise, called Harajuku Mini for Target. There are prices ($3.99 to $29.99) but no pictures of the collection yet, which will hit stores in November. [WWD]
---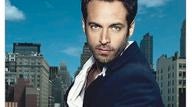 Natalie Portman
's fiancé is in an
Yves Saint Laurent
perfume ad. The fragrance is called
"L'Homme Libre,"
or "Free Man." [
WWD
]
---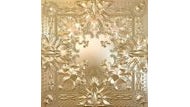 Riccardo Tisci
of
Givenchy
designed this album cover for
Kanye West and Jay-Z
's forthcoming collaboration,
Watch the Throne
. [
Telegraph
]
Kanye West
is in fact working on a
clothing line
with designer
Louise Goldin
, says Central St. Martins professor
Louise Wilson
. Wilson denies she is consulting on the line, as had been rumored, but says, "I've known him for two years now and
he's incredibly knowledgeable about fashion
, he's a global phenomenon and a very interesting person. I think we can expect a well-considered collection, you wouldn't expect less from a pair of professionals and I warn against dismissing it in haste.
There are those who might assume Louise will be doing all the work and Kanye is just the face, I don't believe this will be the case
— he researches thoroughly and is hands on and committed to his work." [
Guardian
]
---
Kohl's says that Jennifer Lopez and Marc Anthony's divorce won't affect their fashion and homewares line, which launches in September. When the line was announced last November, Kohl's bragged of having bagged "the first celebrity couple to simultaneously design collections for one retailer." This weekend the store spoke of "the Jennifer Lopez and Marc Anthony brands," plural, and said these brands "have always been positioned as two separate, distinctive collections that offer high-quality contemporary style for men and women." There's no word on what Anthony and Lopez are being paid for their line/s. [WWD]
Obama for America 2012 already has 26 super-mega-$500,000+ "bundler" fundraisers — and Anna Wintour is one of them. [Barack Obama]
Peter Blake, who designed the Sgt. Pepper album cover, says he would love to paint a portrait of Kate Moss. Given he calls her "not a great beauty" in this interview, Moss is sure to agree! [Telegraph]
Coco Rocha has released a clip from the film that her husband, James Conran, shot while they visited Haiti with Behati Prinsloo. See Rocha and Prinsloo playing soccer with children, visiting schools, and dancing. [Oh So Coco]
Carla Bruni-Sarkozy has finally admitted what has been clear to everyone on earth who has eyes for months: that she is pregnant. In an interview with the regional newspaper Nice-Matin for Bastille Day, she called the pregnancy "this unexpected and unhoped for coming happiness," and said that she and Nicolas Sarkozy don't know the sex of the fetus. [WWD]
Stephanie Seymour called the police during a domestic dispute with her 18-year-old son, Peter Brant Jr. (The one she seemed so very close to.) [P6]
And now, a moment with Roberto Cavalli:

Roberto Cavalli: "In my planet, fashion, I'm the only straight man."
Colin McDowell: "There's a few."
Cavalli: "Who?"
McDowell: "Ralph Lauren, he's straight."
Cavalli: "Are you sure?"

[Vogue UK]

Madonna and Iconix Brand Group's Macy's juniors' line, Material Girl, is expanding into including beauty, intimates, sleepwear, and "social dresses." Says Lourdes, "The body products have fun names like Wicked Watermelon, Flirty Fruit, Midnight Magnolia and Sinful Sugar." Awesome alliteration, all. [WWD]
If you haven't yet read Lazaro Hernandez's testimony to the House subcommittee that is considering the proposed bill to offer limited copyright protection to original apparel designs, you should. Hernandez — who co-founded, with Jack McCollough, Proenza Schouler — clearly lays out the investments that designers make in their collections, investments which he says design piracy jeopardizes: "It takes tens of thousands of dollars to start a business and even more to grow and create new collections and shows to showcase them. Just one of our collections — and we produce 4 collections a year — costs $3.8 million. The cost of a typical show is approximately $320,000. So, before a designer has even received that first order, they've spent a significant sum of money." [LexisNexis]
Andrew Rosen of Theory is rumored to be close to buying out Permira's 45% stake in Proenza Schouler, by the way. [WWD]
Playwright Israel Horovitz has buyer's remorse: "For years and years, I've been really loving buying and wearing vintage clothing. I recently bought some shirts from the 1950s, and they're really wonderful, sort of super plaid-you know, larger. Then I got them home and I realized that at my age, when I wear them, it looks like it was my clothing that I never threw away. So I won't be wearing this stuff." [Racked]
The Telegraph investigates the hard questions this week, including women who wear opaque tights in July. Um, it's England? It tops out at like 60 degrees there. [Telegraph]
Topshop is increasing its production of evening wear. [WWD]
The daughter of someone associated with Bernie Madoff and his ponzi scheme has a jewelry line. Unfortunately, rather than design her own jewelry, she bought some jewelry she liked and sent it off to a Chinese factory to be cast and copied. [NYPost]
Here's that event horizon of celebrity perfume you've been waiting for: someone is re-releasing Marie Antoinette's personal scent. [Vogue (of course)]
That cotton prices are surging is an old story — but did you know that there's apparently also something of a leather bubble right now? The price of Italian leather has risen about 40% in the past twelve months, and U.S.-tanned leather is up 13.9% in the year to May. Brands are coping with this in different ways: Rebecca Minkoff, which uses mostly Italian leather, reconsidered its designs but actually lowered prices slightly on some of its best-selling bags. Dooney & Bourke raised its prices by around 25%, and blamed material costs. [WWD]
One thing that's hampered Gap's expansion into China: the company's decision to make its (pretty nicely) redesigned range of jeans, which is sold under the label 1969, the centerpiece of its branding efforts there. In China, "1969" connotes "Cultural Revolution" and "firing squads for intellectuals" and "cult of personality" rather more than it does "vague reference to some supposedly awesome '60s counterculture" and "San Francisco" and "your butt will look great in these." [Marketplace]