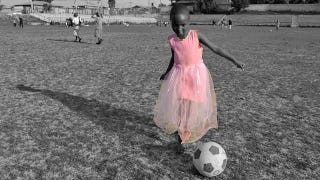 I'm surprised there are professional women athletes at all. It's shocking, really, given the way we treat little girls.
Like most of America, I am enraptured by the USA women's soccer team's run for the World Cup. On game days, I plan my schedule around them (a benefit of staying home to manage the house and having a soccer-obsessed little girl to watch the games with). On Sunday, for the final match, the kid is planning a soccer ball/American flag face-painting party, just like crazed fans she's seen on TV over the past few weeks, and I have these visions of her kicking the ball around the house during the game and smearing sticky smudges of red, white and blue paint all over the walls and couches. But whatever, she's having a good time and I'm loving the ability to show her some of the most courageous and hard-working women role models out there.
Which is why I keep coming back to the notion that it's amazing these women have become pros.
From a young age, even 40 years after Title IX opened doors for equality in education, including sports opportunities, girls are still faced with this weird, sexist dichotomy in America. We laud professional women athletes every now and then, but we still treat young girl athletes like outcasts, freak show contestants in athletic arenas made "for boys." No, seriously. That's why you can find hand-wringing coverage of the 8-year-old girl who kickboxes.
As this site mentioned earlier this week, The Today Show covered the apparent "controversy" of an Australian dad who let his 8-year-old daughter enter a kickboxing fight. It was a sanctioned event, with pads, a referee, a like-sized opponent and some serious training involved before the kid ever stepped into the ring. As a father of a young girl, I'd have appreciated it if they covered this story with the angle of "Geez, can you believe Australia is all aflame over the idea of girls fighting in an organized, sanctioned event? It's the 21st century Australia, get over it."