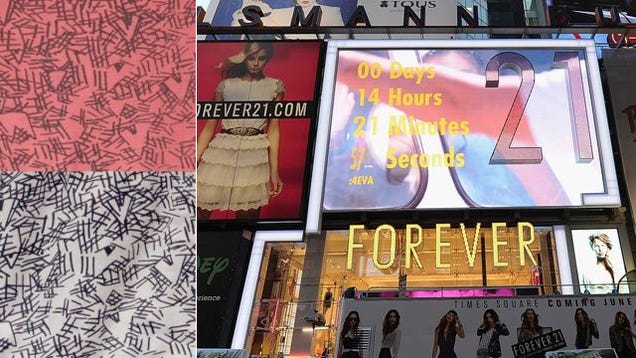 Forever 21 is being sued for copyright infringement by an up-and-coming designer — again. The folks behind a line called Feral Childe allege that the California-based creepy-Christian sweatshop emporium copied one of their textile prints. This is noteworthy because while under current law garments themselves — as in patterns, "cut," construction elements, and everything else that makes a dress unique — are not copyrightable intellectual property, graphic elements that might be featured on garments — as in prints — are. Forever 21 has been sued for copying more than 50 times by designers including Anna Sui and Diane von Furstenberg; the company has always settled out of court. One trade dress infringement claim by the now-defunct label Trovata resulted in a lengthy trial, during which the court was treated to the spectacle of Forever 21 co-founder and creative director Jin Sook Chang claiming ignorance of her company's ownership structure, of who her company's other executives are, and even of her company annual sales. Trovata later settled out of court. Feral Childe's textile design is shown at top; Forever 21's is below. [The Cut]
Feral Childe's designers Alice Wu and Moriah Carlson say their textile design, called "Teepees," is registered with the U.S. Copyright Office. Wu says it took her and Carlson "several months" to develop the print, "starting from sketchbook drawings and then refined and edited in countless email exchanges between us until we perfected the image. This type of markmaking reflects the very particular philosophy of drawing taught at the New York Studio School, where both of us studied...We have made the image very personal and particular to Feral Childe. There are hidden pictures of teepees and crowns and pennants in the drawing that aren't necessarily apparent at first glance. How could anyone else come up with that combination?" She continues, "Whoever at Forever 21 discovered our print and decided to co-opt it wasn't looking closely and probably just assumed this was just an abstract 'scratch print' and didn't notice our hidden pictures." [EcoSalon]
Meanwhile, this morning Lazaro Hernandez of Proenza Schouler, a Harvard law professor, and a spokesperson for the American Apparel & Footwear Association, an industry lobbying group, testified before Congress in support of the proposed Innovative Design Protection and Piracy Act. The IDPPA would extend limited copyright protection to clothing itself when a designer's work was deliberately copied by someone who had access to or was aware of the original, resulting in a copy that is "substantially identical" to the original. Council of Fashion Designers of America president Steven Kolb says the proposed law, which was developed with Senator Chuck Schumer, is necessary "because we see the vulnerability of designers, particularly young designers and small business owners and the consequences of their ideas, intellectual property and creativity being taken from them and how it impacts their ability to manufacture their collections and grow their businesses." Indeed, behemoths like Forever 21 have a preference for copying the work of younger and less-established designers, because they are less likely to be protected by a phalanx of scary litigators, like, say, Louis Vuitton and Chanel are. [WWD]
You can read Hernandez' congressional testimony along with all the witnesses' testimony here. [LexisNexis]
---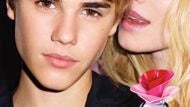 Justin Bieber
's perfume Someday has broken all sales records. In less than three weeks, it's rung up more than
$3 million
at Macy's. At this rate, it is on track to become the top-selling perfume of 2011. Previously,
Beyoncé's
Heat was considered the top-selling celebrity perfume at launch. Heat did $3 million in its first month. [
WWD
]
---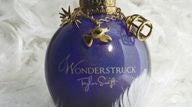 Taylor Swift
Has Laryngitis, Also A Perfume. [
WWD
]
---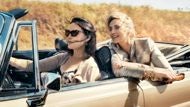 Jane Lynch
and her wife are in a
Vogue
spread. [
Vogue
]
---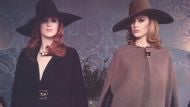 Karen Elson and Raquel Zimmerman
star in the fall
Lanvin
campaign, which was shot by
Steven Meisel
. [
Models.com
]
---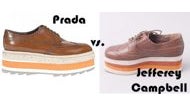 Jefferey Campbell
knocked off the
Prada
creeper-brogue hybrid. Point the first: this isn't even a very accurate copy. (Holly Shoes
already did
a version that included both that band of hemp and the treaded soles, neither of which Jeffery Campbell could apparently be bothered to get right.) Point the second: Still ugly. [
Fashionista
]
---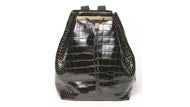 The
Olsen
twins' handbag line includes this
backpack that costs $39,000
. Barneys New York fashion director
Amanda Brooks
says the backpack is
"super triple chic."
She continued, "I think
if you were every going to spend $39,000 on a bag, that's the bag you should buy
because I think you'd wear it for a really long time."
Simon Doonan
, Barneys creative director, however says backpacks aren't for him. "I never was a backpack person.
My gay sister was always working a backpack and it's a little too hearty for me.
" Two of the $39,000 backpacks have already been pre-ordered. [
Fashionista
]
---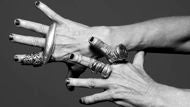 Michele Lamy
, the wife and muse of
Rick Owens
, has an unusual background. She studied law, worked as a stripper, protested in Paris in May 1968, and responds to questions about whether she has an interest in the occult by saying,
"Belief is a way to express a memory of your genes."
She has a couple gold-plated teeth and does her nails with a henna-like vegetable dye. (Women in Morocco and the Middle East do this, too, but with actual henna.) [
Oyster
]
---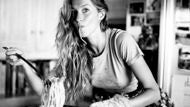 Here is a gallery of fashion photos of (mostly)
models eating pasta
. [
The Gloss
]
---