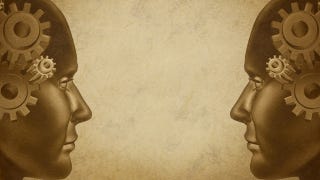 A new study shows computer use may affect the way we remember things. But don't freak out just yet.
According to the Times, researchers asked participants to type a series of facts (example: "an ostrich's eye is bigger than its brain") into a computer. Those who were told the computer would save their facts were less likely to remember them than those who thought they'd immediately be erased. In another experiment, researchers asked subjects to remember not just facts but also which folder on a computer they were saved in. Somewhat surprisingly, people were better at remembering the folders than the facts themselves.
All this may well be ammo for folks who claim computers are making us dumber. This argument is as old as computers themselves, and it stems from real changes in the way we think — just as you may not learn long division if you rely on a calculator, you might not memorize the capital of Uzbekistan if you know you can always Google it. On the flipside, though, plenty of people have argued that computers and the Internet actually make us smarter. And it's true that research now is faster than ever, which may free up more time for higher-order thinking — if I don't have to spend an hour in the library looking up the capital of Uzbekistan, I can get right to my essay on Central Asian geopolitics (or perhaps on doubly-landlocked countries).