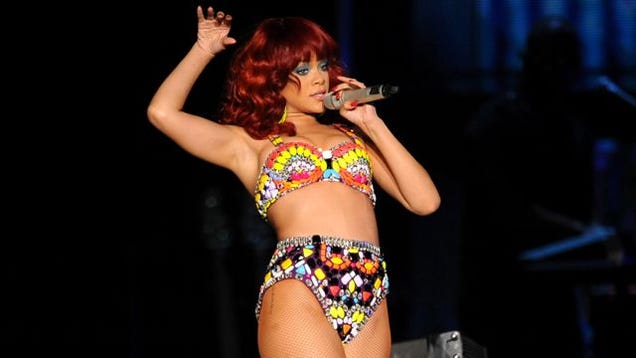 Rihanna will replace Megan Fox as the global face of Emporio Armani underwear and Armani Jeans. Fox's deal with Armani was announced in October of 2009, and her first ads appeared in January of 2010. She was said to have commanded a $2 million fee; there's no word yet on what Rihanna, who was previously a face of Gucci, might have been paid. [WWD]
---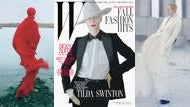 In the new
W
,
Tilda Swinton
poses for an extraordinary
Tim Walker
editorial, and talks about her style influences:
David Bowie
— especially circa
The Man Who Fell To Earth
— and her father, Maj. Gen. Sir John Swinton. Swinton calls them "
my aesthetic North Stars
...the individuals with whom I share the same planetary DNA." The actress also expressed some frustrations about how androgyny is discussed in contemporary culture.
"People talk about androgyny in all sorts of dull ways."
Her father was a commander of the Queen's Household Division. "From childhood, I remember more about his black patent, gold livery, scarlet-striped legs, and medal ribbons than I do of my mother's evening dresses," says Swinton.
"I would rather be handsome, as he is, for an hour than pretty for a week."
[
W
]
---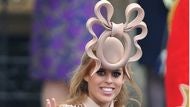 Philip Treacy
is still defending
the fascinator
he made for
Princess Beatrice
. "
I didn't give a fuck about 140,000 bloggers
. In the future, we'll look back and think she looked wild." [
Guardian
]
---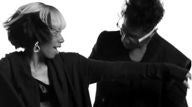 Santigold and Spankrock
dance around in this new ad for
T by Alexander Wang
. [
YouTube
]
---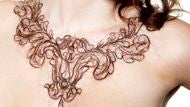 When we look at this
human-hair jewelry
by artist
Kerry Howell
, we are seized by a sudden desire to scratch all over. [
Fashionista
]
---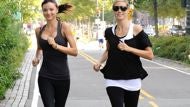 Heidi Klum
has run 93.77 miles since June 20th. She's jogged with
Miranda Kerr
,
Michael Kors
,
Coco Rocha
, and
Brooklyn Decker
. [
Heidi Klum
]
---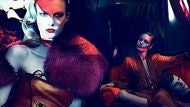 Joan Smalls, Abbey Lee Kershaw, Sigrid Agren, and Emily Baker
are in the new
Gucci
campaign. [
Fashionologie
]
---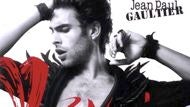 Here's
Jon Kortajarena
in the new campaign for
Jean Paul Gaultier
's fragrance Kokorico. [
OhLaLa
]
---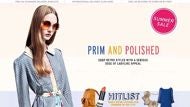 Topshop
has removed this image of Australian model
Codie Young
from its web site after eating disorder awareness groups criticized it. The mother of a teenager with anorexia told the
Daily Mail
,
"This is absolutely outrageous in 2011, seeing models this thin. She clearly looks like a size zero,"
and said
Young's picture could cause her daughter to relapse
. She added,
"The girl looks ill. I dread to think how she looks under her clothes."
(The latter comment has since been edited out of the
Mail
's article, but commentary on Young's "bony fingers" and "sunken eyes" remains.) An anorexia researcher said,
"For girls to see pictures of models who are this thin suggests that it's okay to be like that but it's clearly not."
Young was upset by the comments, and
wrote
on her blog that it was
enraging to be talked about "as if I'm not a real person (like I'm just a model used for them to prove some point)."
She says she is naturally thin. "
I am very happy with my body
and how I look because its apart of who I am! Throughout my entire childhood I was called anorexic and people would ask if I was bulimic. And it was really hard sometimes for me to deal with as I have always been this way." [
Daily Mail
]
---