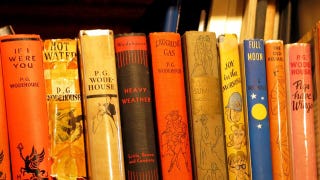 Summer's here, which means it's time to pick up a book — or a Kindle, or an iPad. With all the traveling and hanging by the beach or pool, reading is fundamental! And celebrities are getting in on the action.
According to Bridal Guide, the tomes on Kim Kardashian's kindle include Reinventing the Body, Resurrecting the Soul, by Deepak Chopra and Are You There, Vodka? It's Me, Chelsea, by Chelsea Handler. Ali Fedotowsky of The Bachelorette is reading Ayn Rand's The Fountainhead. Cough. Well good for them, for expanding their brains.
We've got some reading suggestions for some other folks:
For Lindsay Lohan: Little Girl Lost by Drew Barrymore.
For Johnny Depp, aka He-Who-Does-Not-Age: The Picture Of Dorian Gray, by Oscar Wilde.
For John Galliano, who said, "I love Hitler": The Diary Of A Young Girl by Anne Frank.