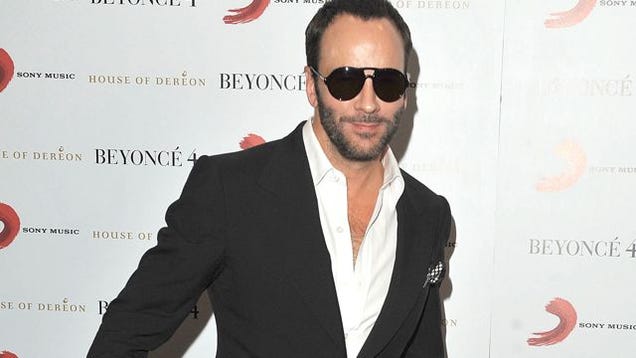 Reading this transcript of Tom Ford answering frankly posed questions about race is an awkward experience. The designer careens from defensiveness, to dismissiveness, to insecurity, to something perhaps approaching how he actually feels, to downright tone-deaf distastefulness. Ford, who has always favored ethnically diverse runway casting — he's often credited with launching the career of Liya Kebede when he was at Gucci — tells Time Out Hong Kong that choosing racially diverse models is a responsibility of designers: "When you do a fashion show it's very important and it's a responsibility to represent a multicultural cast." But he also says, "When you grow up in America, contrary to popular belief, we are racially blind because we've had Japanese and Chinese families, five generations, living in America. So we grow up with Asian-Americans, African-Americans, European-Americans." Ford describes himself as "colorblind" when it comes to race. When the reporter tells the designer that she tried on some of his clothes, Ford, apparently anticipating a criticism, interrupts with "Did they not fit?" And then launches into this lengthy defense:
First of all, we did have some fitting problems with this collection and you know this is my first collection and I did it in three months because I was working on the Oscars until March and then I had to hire my team, find manufacturers, find my studio, set it all up, and finish [the collection] from April to July because that has to be ready for New York. So it's a tiny collection. And to be quite honest, there were some fit discrepancies between things. [Thinking aloud] Umm, but no, it would be fine.
"But will it fit everybody?" asked the reporter, who wanted to know about the differences in designing for Asian people versus for Westerners. It's a good question; bodies are different (though of course they differ far more among racial categories than they do between them) and fashion design is, on a fundamental level, a matter of choosing who will be able to wear your clothes. The body of the eventual wearer is encoded in the garment. Ford replied, "If we have to talk about things like this, Americans are too fat. And in London they are starting to get fat too. So I have to say that if we have to talk about race system and nationalism, I find it refreshing that everyone Chinese is slim." [TOHK]
---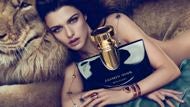 Rachel Weisz
and a lion pose together for
Bulgari's
new perfume campaign. They've used this trick
before
. [
SB
]
---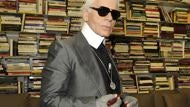 Karl Lagerfeld
, who we all know doesn't use computers (he has "people" to do that for him) sure loves his
pens
. So he now has a namesake line of pens. "I wanted a fountain pen in a certain way," he explained. [
WWD
]
Karl Lagerfeld's pen
is apparently so impressive it merited not one but two items in today's
Women's Wear Daily
. [
WWD
]
Karl Lagerfeld read Buddenbrooks when he was eight years old
. What did
you
do when you were eight, hmm? Read a Little Golden Book? You amateur. [
NYTimes
]
---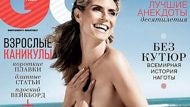 Heidi Klum
is looking very Photoshop-fabulous on the cover of Russian
GQ
. [
ONTD
]
---
Bob Mackie
is auctioning off 46 of his "thousands" of fashion sketches at his website, Bobmackie.com. [
WWD
]
---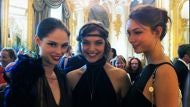 Here's a picture of
Coco Rocha, Arizona Muse, and Karlie Kloss
in Paris. [@
CocoRocha
]
Elle
finally published something about the rumor that
Arizona Muse and Freja Beha Erichsen
are
an item
. Online mutterings about same have been going around since October of last year; back in February, a reliable
source who lives in Erichsen's building
told us she'd seen
Muse
making evening visits. Erichsen, one of the only out female top models working today, has dated
Catherine McNeil
(openly) and (allegedly)
Irina Lazareanu
in the past. Erichsen and Muse covered
Vogue
Italia together earlier this year. [
Elle
]
---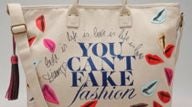 The
Council of Fashion Designers of America
is selling
$35 tote bags
decorated by designers including
Diane von Furstenberg, Reed Krakoff, Marchesa, and Jason Wu
. The totes come emblazoned with the anti-counterfeiting slogan
You Can't Fake Fashion
, and will be sold on eBay. [
Elle
]
---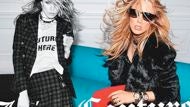 Here's fall's
Juicy Couture
campaign.
Raquel Zimmerman
looks like she's trying
really
hard to make that Hot Topic-ish plaid suit look interesting. [
WWD
]
---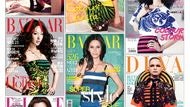 Prada's
stripe-tastic collection scored 77 spring fashion magazine covers.
Gucci
took 69, while
Dolce & Gabbana
nabbed 63. [
Fashionista
]
---