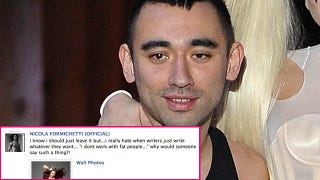 In the current issue of W, fashion stylist Nicola Formichetti is quoted relating a rather damning anecdote about his time at Dazed & Confused magazine. Formichetti says he once walked off the set of a shoot with the techno-world music fusion group Zohar. What had the band done to offend Nicola Formichetti? The stylist didn't like that they were "fat."
One shoot, which involved dressing a rock band, was particularly unfortunate. "I was only used to dressing models and skinny kids," he recalled. "And I turned up and it was, like, three fat guys. I just left. That was the last time I tried to work with fat people. I think one of them was Ali G's brother. It was so ghetto."
There's lots to gnaw on here: the silliness of a stylist refusing to dress certain clients based on body type, the irony of a fashion insider like Formichetti casting such a refusal in the language of "telling the truth," as though the fashion industry were some kind of haven of body-positivity and self-acceptance he was boldly challenging, the casual racism of a remark like "ghetto," and also the downright weirdness of Nicola Formichetti apparently mistaking the fictional character Ali G for a real person. The Lady Gaga connection. No wonder the quote spread round the Internet.