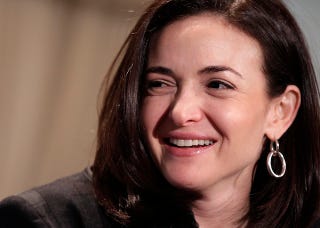 After a talk Facebook's chief operating officer Sheryl Sandberg gave at Harvard Business School, she saw a difference between the women and the men. The men asked about business; the women asked "girl questions."
Sandberg's characterization is found in a significant New Yorker profile this week, which says it is also about Silicon Valley's "male dominated culture," but is more clearly about questions about women's leadership in elite circles generally. What is a girl question? The only example given is "how to find a mentor" (and then after the talk itself, maternity leave) and when pressed by fellow female executives, Sandberg backs off from her criticism.
It's a telling moment, and a contradictory one. By every account, Sandberg actively tries to help women, explicitly, as a mentor, and her career owes a lot to her own mentor, Larry Summers. But writer Ken Auletta also zeroes in on something that other profiles of Sandberg, her much-viewed TEDTalk and her recent speech at Barnard only hinted at: Sandberg's particular philosophy of power and why women don't have more of it. Which is to say, why she's less interested in structural analysis of gender inequality and more in telling women to get off their asses.