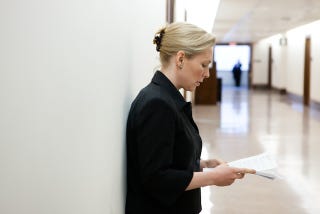 Remember how the number of women in Congress actually declined in 2010, despite the feminist trailblazing of Sarah Palin, Christine O'Donnell, and Sharon Angle? New York Senator Kirsten Gillibrand does.
The Times reports that Gillibrand has launched a campaign called Off the Sidelines, "to mobilize women across the country, in advance of the national elections next year and as evidence emerges that the slow but steady progress made by women in elective politics has begun to stall." Its actual work sounds not unlike that of EMILY's List, with which Gillibrand recently held a Facebook chat; The Times says the Senator has "activated her network of donors to help female candidates, emerged as a headliner among audiences of women, tried to recruit female candidates, advised women thinking about running, and started a Web site, offthesidelines.org."
The story doesn't mention it, but the difference between Gillibrand's efforts and say, Sarah Palin's Mama Grizzlies is that she's become one of the most visible progressives in the Senate on issues that affect women and LGBT people. Her legislative work and stances reflect the difference between just having women in office and having women in office that work to advance women and vulnerable populations.
She pushed back on the proposed defunding of Planned Parenthood, was instrumental in getting Don't Ask Don't Tell repealed and spoke out against the anti-choice Stupak amendment during the health insurance reform debate. She's been campaigning for the repeal of the Defense of Marriage Act and to allow military women the same access to abortions as civilian women on government insurance. (Of course, as a congresswoman representing a conservative district, she wasn't so nearly so gay-friendly, but however opportunistic a cause it is for her, she's getting shit done.)
Although Gillibrand's of a different generation from Hillary Clinton and benefits from previous trailblazers, she knows from bullshit double standards, including Vogue helpfully harping on her post-baby weight loss and how it'll help her keep her younger (by two years!) husband.