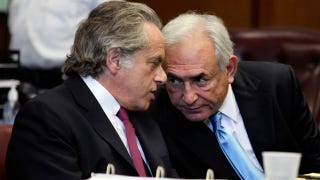 Following revelations about his accuser's past, Dominique Strauss-Kahn was released without bail at a court hearing today. However, prosecutors could still bring charges against him.
According to the Guardian, a judge in today's brief hearing released Strauss-Kahn on his own recognizance, "a term used when the defendant is released but promises to attend all court proceedings and not to engage in any illegal activity or prohibited conduct." This means he won't have to remain under house arrest in his pricey TriBeCa apartment, but he also can't yet return to France. The prosecution says it is reassessing in light of new information about the accuser's potential connections to drug dealers — "The case has been affected but we are not dismissing the case."
Some have speculated that the charges against DSK could eventually be reduced to a misdemeanor, which sends a confusing message — did Strauss-Kahn sort of assault someone? Is assaulting a perfect victim a felony, while assaulting a woman who may have been connected to criminals, and who also sometimes drank alcohol, is something less? If Strauss-Kahn is actually innocent, what would the misdemeanor charges be for?