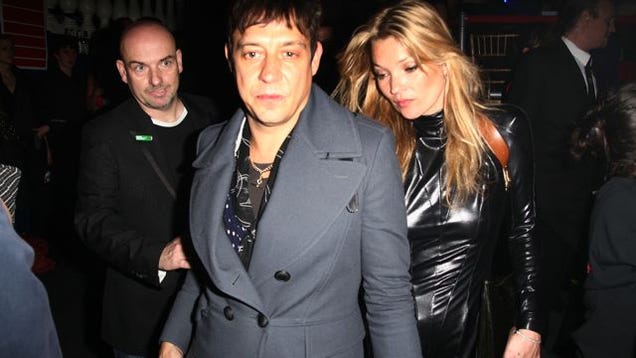 Kate Moss and Jamie Hince's wedding, in case you've forgotten, is just around the corner. The three-day extravaganza starts Friday, and will center around Moss's Cotswolds country home. According to rumor, The Gossip, Snoop Dogg, Shirley Bassey, and the Rolling Stones will perform — and the menu is musically themed, too, says one guest: Kate "is going to be serving Keith Richards' shepherd's pie, Steve Tyler's thai curry and Primal Scream's Bobby Gillespie's sausage and mash." The couple has allegedly enlisted "two top chefs" to serve hungry guests sausage rolls — which are a delicious, fattening British analogue to pigs-in-blankets — and breadsticks. For decorations, there will be custom-made bunting with a motif of "skulls, flowers, headlines of her escapades, flowers and photos." Sounds...cheerful. [Telegraph]
"Cocaine Kate's carnival of excess as she marries her Z-list rocker (and at £500,000, here's hoping it lasts). Guests have to bring water pistols. There's vodka by the truckload and alcohol-free cocktails (for those in rehab). Brace yourself for three days of vulgar indulgence." Oh, "Daily Mail Reporter," you never fail to impress us with your extra-mean adjective selection. Um, does it make us bad people if we want a vodka lorry, too? Not to mention, there will be a dress-up room where guests can play in Kate's closet. [Daily Mail]
In case you can't make it but would like to send your regards to one of the world's wealthiest supermodels and her rock star beau, Moss and Hince have registered for a case of champagne, a vintage cocktail shaker and cups, and 14 ashtrays. Or you could just spring for a silver-plated coke spoon. [Sun]
---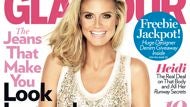 Heidi Klum
says
Michael Kors
gives her shit about her hemlines on
Project Runway
. "He says that
my skirts are really short. He calls it fallopian length.
He teases me." Klum shares this insight in the new issue of
Glamour
. [
Glamour
]
---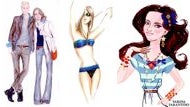 Prince William and Kate Middleton
get the illustration treatment from a variety of California designers in today's
Women's Wear Daily
.
Rachel Zoe
wants Kate to wear something "glamorous, Boho and sexy without being too revealing. Perfect for a beach party in Malibu." [
WWD
]
---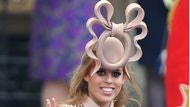 Are you happy now?
Princess Beatrice
was apparently so scarred by all the commentary, criticism, and
Rorschach-test-related humor
devoted to her
royal wedding hat
that she went and hired
Emma Watson
's stylist — for
$2,400 per day
. That's an awful lot of money to be paid for saying "Bad hat! No!" every five minutes. [
Daily Mail
]
---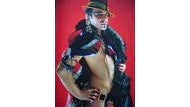 Here is a
Mario Testino
portrait of
John Galliano
from 1997. [
WOW
]
---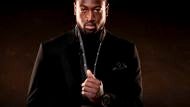 Dwyane Wade
designed a watch for
Hublot
, which the...star of that sport involving balls, right?...very sternly models here. It has a black, micro-blasted ceramic casing with red detailing, and it costs
$20,000
. [
WWD
]
---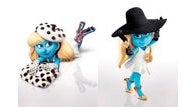 Harper's Bazaar
put
Smurfette
in an accessories spread. [
HB
]
---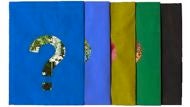 Shipley & Halmos
is selling these cute mystery seed bombs for
$3.99
. [
Refinery29
]
---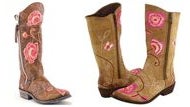 A California-based company called
Old Gringo
is suing
Lucky Brand
for allegedly
knocking off its boots
. On the left is Old Gringo's product, on the right is Lucky's. [
WWD
]
---