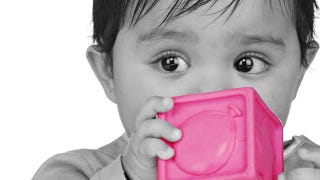 There's already plenty of controversy surrounding India's strong preference for boys and high rate of sex-selective abortion. Now shocking new reports claim that some parents in the country are trying to choose their child's gender even after he or she is born.
The Indian state of Madhya Pradesh has launched an investigation in response to a Hindustan Times report that doctors have performed hundreds of operations on girls because their parents wanted boys instead. According to the paper, about 200 to 300 children ages five and under have been subjected to genitoplasty in the town of Indore. The children were also given hormonal treatments to complete the sex change operation. Supposedly parents from other areas are traveling to Indore to get the procedure because it's cheap (about $3,200) and fairly easy to obtain.
Though the practice is controversial, it's still common in the U.S. and around the world for children who are born intersex to undergo genital surgery at a young age. The seven pediatric surgeons who perform the operations in Indore say they're only done on children whose internal sex organs don't match their genitalia. However, the paper says the procedure is "allegedly being misused rampantly to promise parents a male child even though they have a female child."
Yesterday health organizations in India responded to the report, demanding that the doctors be investigated. The Medical Council of India also called for the formation of a board of medical experts to look at genitoplasty in children on a case-by-case basis. Professor Gautam Sen, a member of the group's board of governors, said:
"There should be a medical board to decide if the surgery is medically required. It has to be a responsible decision made by a panel and not a decision between a parent and a doctor."
Many intersex advocates say the procedure is almost never medically necessary. They argue that parents shouldn't choose between two sexes and force a baby to undergo a procedure that could leave them sterile. It seems medical groups in India are mainly concerned about parents trying to turn clearly female children into boys by abusing the system, not the ethics involved when children are born with ambiguous genitals.