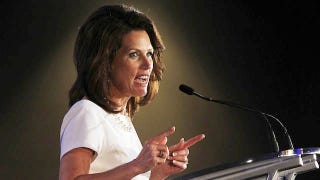 Michele Bachmann is tied for first place in Iowa. Put away your crazy-eyes jokes (we will too) and watch Chris Wallace grovel for asking her if she's a flake.
And then watch Bachmann shrug off his apology like she doesn't need a thing from the serious face of the network that helped create her.
If you had a Bachmann-free weekend, here's a recap: She was on Fox News Sunday yesterday, during which Wallace demanded she answer for critics that say she's a flake. As Erin complained yesterday, "If there's anything I dislike more than Michele Bachmann being a serious political candidate, it's Chris Wallace talking to her like she's a stupid high school cheerleader running for city council. Stupid people have no problem making themselves look stupid without any help."