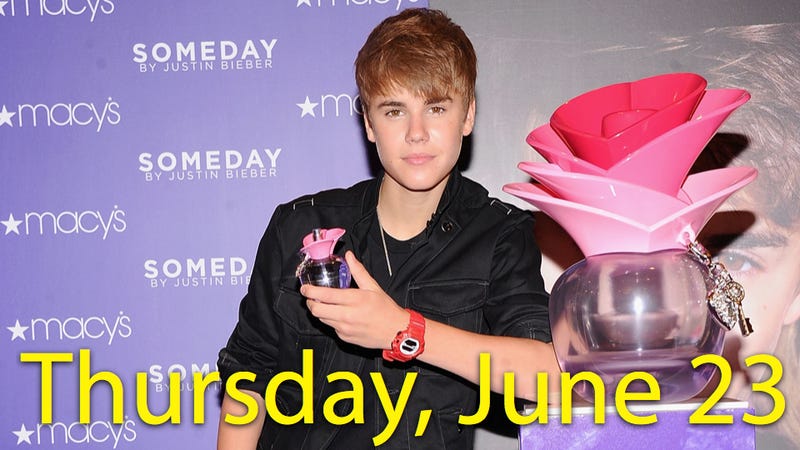 Tragedy struck today outside Macy's Herald Square. When
Justin Bieber
walked outside to acknowledge the throng of screaming girls who couldn't make it into his cologne-hawking event, he was attacked by "an unidentified man." The man jumped over a barrier and knocked Bieber to the ground, prompting the Bieb to bravely come back at him while yelling, "What? What?" The attacker was subdued by security guards. You may be able to make out the incident in this video, complete with NSFW audio. [
NYT
,
Village Voice
]
But wait! Apparently this was all just a misunderstanding. The attacker was actually a plainclothes police officer who was trying to help Bieber when the crowd got unruly. JB thought he was a crazed fan and got defensive, and a member of his security team grabbed the cop. The security guard was initially cited for disorderly conduct, but he made peace with the officer and they're now working together to protect Bieber from "fans" trying to rip him limb from limb. [
TMZ
]
---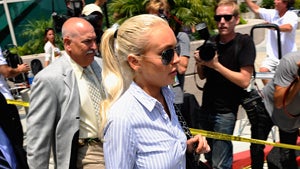 Lindsay Lohan
has avoided jail time once again. Today Judge Stephanie Sautner ruled that while Linday did test positive for alcohol, she was only subject to controlled substances testing from January 3 to February 23. The judge said she was only guilty of "extremely poor judgment." [
TMZ
]
The judge also told
Lindsay
she's not allowed to have parties during house arrest. Experts say the ruling is kind of illegal, but note that a non-celebrity in Lindsay's position would usually still be required to undergo drug testing. [
Fox News
]
TMZ counters
Lindsay
's assertion that her home is booze-free with a blurry photo of an open wine bottle. [
TMZ
]
Because you're dying to know, "
Lohan
wore a striped Steve Alan button-up, Sass & Bide pants and Chanel heels, which she topped off with a Rosemark necklace and a Balenciaga bag." [
Us
]
Certainly
Wilmer Valderrama
, whose relationship with
Lindsay
ended six years ago, has a lot of relevant insights. "I'm not worried about her at all," he said. "I think she's going to get through this because she is ridiculously talented." [
People
]
Michael Lohan
says, "Regardless of whether she gets tested or not under home arrest any drinking at all is not good for Lindsay." Stop saying things that make sense! It's too confusing. [
Radar
]
Ah, that's better:
Michael
claims the judge only knows about Lindsay's rooftop parties because
Samantha Ronson
made a noise complaint. Or perhaps the judge just saw the paparazzi photos posted all over the internet? [
Rumor Fix
]
Supposedly
Lindsay
is "beyond jealous" because
Samantha
is now dating a young lady with red hair. [
E!
]
---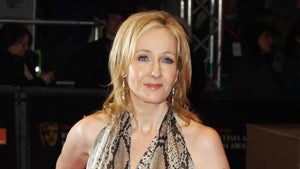 Today
J.K. Rowling
announced that she'll release Harry Potter e-books through the website Pottermore.com. She described it as "an online reading experience unlike any other," adding that the site will feature, "the same story with a few crucial additions — the most important one: you." Ugh, not more Mary Sue fanfic! [
CBS News
]
---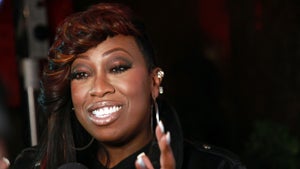 Missy Elliot
has Graves' disease, an incurable condition that's affecting her thyroid. She was diagnosed in 2008 and has been receiving radiation treatments to manage symptoms like dizzy spells, lumps in her throat, mood swings, hair loss, and bulging eyes. She says things are going well: "My thyroid is functioning, so I haven't had to take medication in about nine months." [
TMZ
]
---