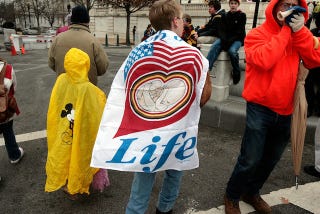 The three remaining abortion clinics in Kansas — which is to say, the ones not already closed by the murder of an abortion provider in that state — are under threat of closing thanks to new, intentionally-unachievable regulations, Mother Jones reports. It's not just Kansas.
The final version of the Kansas regulations, signed into law by anti-abortion Governor Sam Brownback, were issued on June 17, and clinics have until July 1 to comply. Per MJ,
The new requirements require facilities to add extra bathrooms, drastically expand waiting and recovery areas, and even add larger janitor's closets, as one clinic employee told me—changes that clinics will have a heck of a time pulling off by the deadline. Under the new rule, clinics must also aquire state certification to admit patients, a process that takes 90 to 120 days, the staffer explained. Which makes it impossible for clinics to comply. And clinics that don't comply with the rules will face fines or possible closure.
We are curious to know what effect janitors' closets have on the safety of women seeking care there. Such tactics are so widespread among anti-choice legislators, they have their own catchy nickname, TRAP, or "targeted regulation of abortion providers."
Earlier this year, Virginia found a novel way into this game by classifying all abortion clinics as hospitals, as opposed to being comparable to doctors' offices.