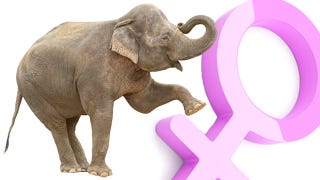 Recently, DNC chair Debbie Wasserman Schultz called out Republicans for their "war on women." House Republican women have a response to that, which boils down to, "Nuh-uh!" Or to be precise, "We are not attacking women. We are women."
Schultz had declared that "the war on women that the Republicans have been waging since they took over the House, I think is not only going to restore but help us exceed the president's margin of victory in the next election." Nancy Pelosi used similar language.
Still, the White House communications director recently squirmed when asked directly if he thought there was a war on women. The best he could manage was, "The war on women is not a phrase the president has used."
So yeah, the White House is trying to stay above the fray regarding an issue it likely wishes would go away and the ladies in the House can use attack-dog language. In the meantime, the Republican-controlled House is busily passing as many anti-choice bills as it can get away with and sneaking whatever it can into the actual budget, while their counterparts in statehouses around the country run roughshod over women's health and choices.