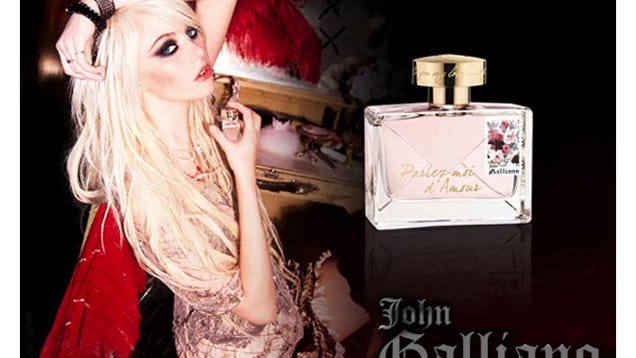 John Galliano's perfume Parlez Moi D'Amour launched in Europe and the Middle East with a snazzy Taylor Momsen-infused ad campaign last year — and was supposed to go on sale in the U.S. this spring. But then came racism. The company wouldn't give precise figures or name names, but some German and U.K. stores have not stocked the scent — although the impact on sales in Italy and France has been minimal. "Everyone knows John was sick at the time" he was caught on camera ranting about loving Hitler and all the people who would have been "fucking gassed," says the head of the company that holds the perfume license. John Galliano — who has been fired from the label that bears his name — is just like Kate Moss, in fact. "We have all forgotten now that she messed up." An industry analyst, speaking anonymously, put the perfume's global wholesale sales since the launch at around $14 million, and said that it could be "several months" before people forget their "negative perceptions of the brand." [WWD]
---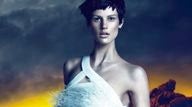 Versace
booked Dutch model
Saskia de Brauw
for its fall campaign. "For me, it is expected to have the blonde girl, the sexy girl, and this is what Versace meant recently," says Donatella Versace. "But I thought about how in the past, when
Gianni
used girls like
Kristen McMenamy and Stella Tennant
, everyone was always saying, 'Wow, this is not a Versace girl, she is not blonde.' Sometimes you need to renew yourself to work better and to make a little bit of a push." [
WWD
]
---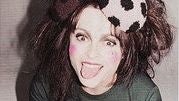 Here's another shot from
Helena Bonham Carter
's
Marc Jacobs
campaign, which is maybe our favorite of the season so far. [
Fashionologie
]
---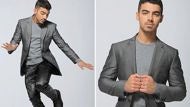 Our enjoyment of these photos of
Joe Jonas
modeling
Calvin Klein
men's wear is necessarily impacted by the fact that we can't remember: is Joe Jonas the one who fucks? [
WWD
]
---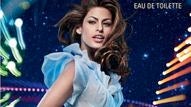 Here's
Eva Mendes
in her
Thierry Mugler Angel
perfume campaign. [
FashionETC
]
---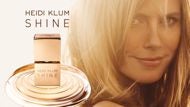 Heidi Klum
conducted an interview from a luxury suite at the Mondrian hotel — from atop
a big pile of sand
she'd had dumped on the floor there specially. Where can one go to get a big pile of sand delivered to a hotel suite in Manhattan, you ask?
Home Depot
. Klum, who is promoting her
new AOL website
and her soon-to-be-released perfume,
Shine
, says
Seal
has never seen
Project Runway
. "You know, my husband has never seen one [episode.] What about that for a fun fact? He's come to the set, but
he hasn't watched an episode.
" Klum will begin Tweeting this summer. "But I'm not into Tweeting like, 'I'm at Starbucks and I took two sugars and syrup in my coffee.'" And she says her ads for Shine are not overly retouched. "You can sell a dream, and
you can sell a lifestyle that a woman aspires to have, but you can't completely trick her.
If people retouch me too much, I get upset — yes, you can help me out a little here and there, but don't go overboard. I have one tooth that's longer than another, and if you look at the [Shine] ad my
snaggletooth
is coming out a little bit — but I like that." [
WWD
]
---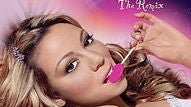 Mariah Carey
's
Lollipop Bling
perfume has begat the even more ridiculously named
Lollipop Splash The Remix
. (Coming up with names for perfume sequels must be a fun job. Naomi Campbell Cat Delxe With Kisses.) [
People
]
---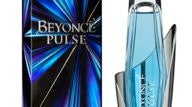 Beyoncé
is also adding a third perfume to her retinue:
Beyoncé Pulse
is expected to sell around
$70 million
at retail in its first year. [
WWD
]
---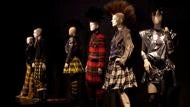 Jean-Paul Gaultier
is the subject of a major retrospective at the Montreal Museum of Fine Arts. The museum director and chief curator says, "We are a fine arts museum and it was more about the message he has, a very humanist message, a social message, about his vision and his generosity. I think it's that
we wanted to work with him as a contemporary artist, not as a fashion designer.
I wanted to show this dimension of his work, and because it was contemporary art." [
Vancouver Sun
]
Gaultier
says,
"I don't think my work is art. We are in the service of men and women."
[
WWD
]
---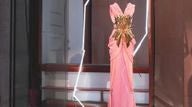 Rodarte's
collection of ten couture dresses is displayed in an installation in Florence. Speaking of contemporary art, there's a
Dan Flavin
-esque feel to the set. [
WWD
]
---