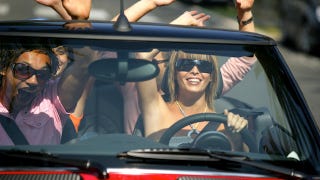 A summer jaunt with your friends can be a source of beautiful memories — or an expensive deathmarch of awkwardness and acrimony. Here's how to make sure it's the former.
Choose your friends wisely.
Or at least your travel friends. Lucy Jane Bledsoe, author of The Big Bang Symphony and The Ice Cave: A Woman's Adventures from the Mojave to the Antarctic, told me,
I probably wouldn't travel with someone who had radically different ideas about what she wanted to do and see. Travel is one of my biggest joys in life, so I like to do it with people who share my ideas of fun and interest.
Stephanie Elizondo Griest, author of 100 Places Every Woman Should Go, added, "If the friend that you're considering traveling with won't even look at sushi, do you really want to be traveling with them?" Obviously you and your friends don't have to be perfectly in sync all the time, nor do you have to do all the same things (more on that later). But you do want to pick traveling companions who share your basic outlook. If you love lounging in hotel rooms, you may not want to plan a weeklong trip with your pal the backpacking skydiver.
Pool your money.
I talked to Marybeth Bond, founder of Gutsy Traveler and author of Best Girlfriends Getaways Worldwide, who says, "When you start to plan, put $100 into a nonrefundable kitty. And that way, if anybody backs out, they lose the $100, but it isn't such a big hit to everyone else." Obviously the amount of money can vary, and it may not be appropriate in certain situations, but pooling deposits can be a good way of forestalling the last-minute cancellations that can throw a wrench in plans. Then, depending on the nature of the trip, everyone can add to the kitty later on for further shared expenses. Bond also mentioned another novel strategy: a group of women she once interviewed picked a different destination every year and pooled the money for airfare to reach it. That way each one paid the same amount for her ticket, even though they were coming from different cities.
However you choose to divide things up, it's smart to create a pool at the beginning so that everybody pays equally for shared expenses and everybody's invested — literally — in the trip. Then if one person wants to do something more pricey — splurge for a single room in a hotel, say, or take a solo day trip — she can pay for it herself. Bond adds, "the most important thing about splitting money is that you're all on the same page about what your budget is and how you like to travel." Have a conversation beforehand about what everyone's willing to spend so that no one feels pressured or deprived.
A word on income inequalities: Griest says friends with drastically different incomes can split travel expenses proportionally, but this might make things uncomfortable unless the friends are very close. Also, it's probably less awkward if the one with more money proposes the proportional split. Bledsoe also suggests that the friend with more cash can "try to find ways to pick up the occasional extra bill without making a big deal out of it." And if you need tips for talking to friends about money issues, we've got that covered too.